COURSE FEEDBACK
Below are some comments and feedback made by participants on the 5-day Drawing the Right Side of the Brain Workshop, developed by Dr Edwards and taught in the UK by Anna Black, a certified teacher licensed by Drawing on the Right Side of the Brain® Inc.
A participant contacted me after the course and offered this feedback for others:
"If you'd like to learn to draw, no matter how little skill you believe you have, I can heartily recommend Drawing on the Right Side of the Brain, and its teaching by Anna. 
But as anyone who's read the book will know, this course is about so much more than learning to draw. It's about learning to really see, and the curiosity that evokes. And it's about learning to dance between left-brain and right-brain modes. 
 And yet more than all that, what I really loved about the course was the gateway it opens up the other possibilities. Having been an artistic no-hoper all my life, within three days I felt very comfortable calling myself an artist because the evidence was right there in front of me in my drawings. 
And if that's possible, what else is? In just a few weeks since the course I've taught myself how to play tennis left-handed, picked up lots of Spanish from scratch, and I'm successfully teaching myself how to swim for a kilometre at a time. All of it has been fun and effortless, which was exactly how I experienced the course with Anna. That really helped me to see how thoroughly and unnecessarily most of us block learning new skills."
Simon F, UK

You can also read a more in-depth account by one of the participants here

You can view student drawings and other class photos in Slideshow here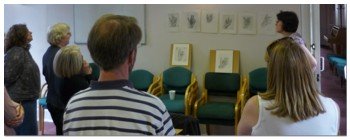 OVERALL COURSE FEEDBACK
"Would highly recommend … overall life-changing, energizing experience that exceeds expectations. Many thanks and much appreciation for a job well done"
"You proved to me that anyone can really do this… the seeing was fun, that is, slipping into R-Mode... The class was a delight and a challenge. I learned a lot about drawing, a lot about teaching and a bit about myself as well."
"Excellent, well done… Thank you for unlocking the right side of my Brain"
"Fantastic course! Amazed at progress after only one day of instruction – the pace of the course was just right… all in all a very relaxing week with absolutely amazing results – the course exceeded my expectations."
"Anna, you were brilliant, and you have taken my drawing ahead by many light years – thanks a million!"
"I can't believe the strides from first pre-drawing to finish portrait – incredible as 45 years ago always came bottom in art class"
"Thanks Anna for a wonderful course. I cannot fault you, the course or the venue; although I have years of 'self-taught' drawing experience, this course took me to a completely new level by instilling in me the basics… Am totally inspired!"
"Anna is an inspired and inspiring teaching. She explained everything in very clearly, in a way that I found illuminating. I was/am a real challenge, discouraged from trying any form of art in my first year at primary school (55 years ago!) and poor hand/eye co-ordination but under her tutelage I came to feel that I really might be able to draw. I learned an enormous amount, particularly about proportions and light and shade – and perhaps most of all about looking….I would enthusiastically recommend this course to anyone who wanted to learn to draw (or even just to look). In fact I already have!"
I had a great week and can only say I wished it could have gone on for another week. I learnt a lot about myself and plan to carry on drawing, as much as I can.
Many thanks, Anna, for a fantastic course and for uploading the photos - seeing them again makes me realise just how much amazing progress we all made in such a short space of time. I really enjoyed the challenge of learning to draw, not to mention meeting such a great group of people, and I fully intend to keep on drawing...

---

TEACHING STYLE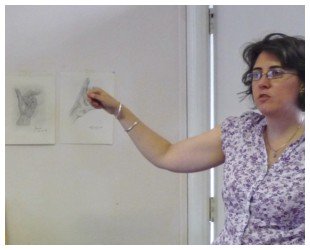 "Your patience and support was very important to me"
"teaching style was just right – quietly encouraging, constructive and non-critical. A great confidence builder"
"Whenever I was stuck wondering what to do next, you (Anna) were always there with the right words and instructions and when I felt it was all going wrong – the right tips, encouragement were so much appreciated… Praise, encouragement etc were so helpful"
"calm, cool and determined and focused but with infinite patience – just what we needed"
"Standard of tuition was excellent"
"First class teaching"
"A major major positive was Anna's positive attitude! You fostered enthusiasm well. When people are so challenged… the positive attitude and encouragement and enthusiasm are hugely important and you possess these in abundance."
"Anna is an inspired and inspiring teaching. She explained everything in very clearly, in a way that I found illuminating….She also created an atmosphere that was so calm, encouraging and non-judgmental…"

---

DRAWING DEMONSTRATIONS AND PRESENTATIONS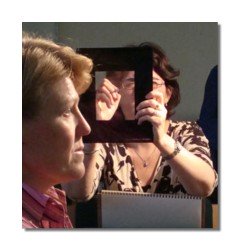 "excellent talks and demonstrations. I found it good to have both the talks, slides and demos – the demos consolidating the slides and talks."
"I appreciated the repetition of key points. The demos were very useful and quickly done. The dialogue during the demos was also useful…"
"Good balance of talk-demonstarate"

---

THE GROUP
"It was also great to be part of such a wonderful group of people"
"Felt spoilt with such a small class – thank you. It meant that tuition had benefits of almost being 1-2-1 with benefit of seeing how rest of the group tackled things."
"The group was just the right size"

---

FEEDBACK: COURSE ORGANISATION
"First class organization skills/logistics"
"Anna was always organized"
"All the practicalities were very well organized"


---
If you like what you've seen and read in this participant feedback and would like to do a 5-day Drawing on the Right Side of the Brain course, developed by Dr Edwards, with Anna Black, you can make a course enquiry here

If you'd like to read other course feedback and about Drawing on the Right Side of the Brain in the media and other sources (these refer to courses taught by Brian Bomeisler, Dr Edwards' son), you can do so here


---
Leave Feedback to return to Learn to Draw Right home page here