DRAWING TIPS
We all could do with a helping hand every so often. Here you will find a series of articles that cover a range of subjects from detailed 'how-to' to more general advice and suggestions. Some of them are short drawing tips, others are longer articles that require you to click through to another page.
These articles are being added to all the time so please visit from time to time to see what's new.
You can either scroll down the page or click on the links immediately below to go to a specific article.
PORTRAIT DRAWING FROM PHOTOGRAPHS
SKETCHING ON LOCATION: THE ARTIST'S DATE
TURNING DRAWING GOALS INTO A REALITY
---
PORTRAIT DRAWING FROM PHOTOGRAPHS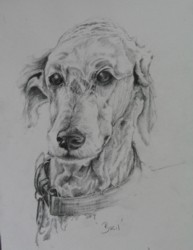 This is a step-by-step description of how I created a pencil drawing of Bazzle. Bazzle is a standard poodle clipped short. He was an honorary member of one of my classes and I fell in love with him on sight! He is a very noble dog – and you could easily imagine him immortalised in a statue so I couldn't resist trying to do the same in a portrait drawing.

He wasn't going to stand still and pose for me so I took loads of photos of him and from these, chose my pose. Whether you are drawing a portrait of a dog or a face, the drawing skills needed are exactly the same...

READ MORE
---
KEEP GOING & KEEP LEARNING
We all have an inner critic that sits on our shoulder harping on about how rubbish we are, how we are wasting our time and why don't we just give up.
However, it is possible to shut this guy up! Try some of the following tips to take back control of your drawing. Don't let "the lodger" spoil your fun. If you don't feed that negative voice, it will just fizzle away...
Sign, date and keep your work as a record of your progress. Seeing how you are improving will spur you on.
Every few months, take out all your drawings, lay them out in sequence (or better yet, pin them up on a wall) and then look at them with open,friendly, non-judging eyes. Look at them as you would look at a piece of work by a stranger. Notice where you've improved. See if you can identify areas you'd like to work on or themes you'd like to explore. Remember - most important of all - be kind to yourself!
Don't give up halfway through a drawing – push through the self-judgment barrier of 'this drawing is rubbish'. Just keep going regardless and see what happens. It's a drawing not a work of art…
Stand back from your drawing as often as you can, walk away and come back and see it with fresh eyes. When you think you've 'finished', leave it propped up, go away and keep coming back to it, you'll soon notice anything that looks 'off'.
Turn a drawing upside down – areas that aren't quite working will jump out at you.
For every critical comment you make on your finished drawing, match it with one positive thing you are pleased with. It could just be the fact that you didn't give up or the way you've caught the light in one spot. Look at your own work as you would look at someone else's and be as kind to yourself as you would be to them.
---
SKETCHING ON LOCATION: THE ARTIST'S DATE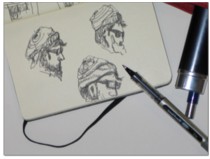 The author Julia Cameron introduced me to the idea of an artist's date in her best-selling book The Artist's Way. It can be really hard for any of us to schedule time to spend on something we really want to do but persevere – the rewards are worth it. Going out and sketching is a great way to hone your drawing skills and build your confidence... READ MORE
---
TURNING DRAWING GOALS INTO A REALITY
How many times have your good intentions to draw failed? You buy a new book and become inspired by someone else's journey. You visit an art store and beguiled by the shiny pencils and inviting paper, load up your shopping basket and leave the shop with your wallet lighter and a spring in your step - only to find that life gets in the way and before you know it, a month or two has passed and you haven't even opened your sketchbook. Goal setting can seem a bit left-brained but we all need a kick-start every so often and if it gets us drawing does it matter?
Here are five steps to turning your drawing goals into a reality.
Five Steps to Turning Your Drawing Goals into a Reality
Make a list of drawing goals and write them down (writing them down means you are more likely to stick to them).
Be realistic (there's no point in setting yourself up to fail)
Make a date in your diary – ideally in one month, no later than in three – to review and revise your goals. It's okay to change and let go of goals but do consciously and deliberately, rather than just letting them fade away in embarrassment. It's natural that what we want now might be different to what we want in three months time.
Share your goals with a friend (they can be a non-drawing person!). A 'goal buddy' can support you in your endeavours (and you can support them in theirs). Be accountable to each other as well as giving each other moral support and encouragement.
For every goal you set, make a plan now about how you are going to achieve it. Be as specific as you can break things down into small manageable steps and write them down.
and finally…
Give yourself permission to start again... if your drawing has fallen by the wayside, so what. The sky won't fall in. If it's something you really want to do, just do it. Start now.
---
SEIZE THE DRAWING MOMENT
Carry a sketchbook with you at all times. Seize the drawing moment!
Make a specific time each week for drawing (each day if you can) to draw. Keep this time sacrosanct and don't let it be hijacked by chores, friends or family. Even 15 minutes will make a difference.
Book a workshop or a class. Mixing with like-minded people can be really motivating. If you can't do something regularly perhaps attend a one-day or residential workshop. Check out your local museums for classes - they often run drawing events for adults. Check their 'What's On' and book early as they are often over-subscribed.
If you are not near any museums, look online - there are some fantastic e-groups out there where like-minded people from all corners of the globe share their frustrations and triumph in drawing and creating.
Don't wait for the muse to strike – you'll be waiting an awful long time. Draw regardless of whether you feel 'in the mood'. Just start drawing and see what happens…
Buy a box file or other storage container and collect images that inspire you… magazine cuttings, postcards, photographs, bits of fabric. Create an 'ideas' box you can draw on.
Keep your drawing materials accessible and to hand so it won't be a big performance to start drawing.
Make an artist's date with yourself once a month. This is a time for you to do something to nourish your inner artist – perhaps visit a gallery, go sketching, visit somewhere new, do something you wouldn't normally do – whatever you want but do it by yourself and make it fun. Step outside your comfort zone. When we struggle, we learn, when we learn we grow.
At the back of your sketchbook make a list of things to draw and each time you want to draw just pull off the first thing on the list. Here's a start: draw a shoe; an egg beater; the first thing you pull out of the kitchen implements draw, your hand; your foot; objects on the mantlepiece; a pair of spectacles...
---
To leave Drawing Tips and return to the Home Page click here