Testimonials
The testimonial below was written by a student to help others find out a bit more about the course and what they might expect from a course taught by Anna Black.
You can read other student accounts of Drawing on the Right Side of the Brain® courses taken with Brian Bomeisler here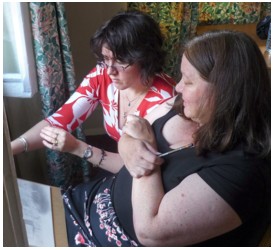 Charlotte Fielding's Testimonial

The drawing on the right side of the brain course (DRSB) had been on my radar for a few years, and I had been prepared to travel to the US. So when I made the decision to attend I was delighted to find course in the UK, but that was a year ago, and business commitments tripped me up. I pressured my partner to take my place in August 2007 on the DRSB course in Cambridge with Brian Bomeisler. As my partner returned triumphant from Cambridge with some unexpectedly elegant work it sealed my determination to make space in my life to attend a DRSB course.
Anna Black was our tutor in June 2008. Anna's flair and organisational skills were obvious from the first contact. Her professional and creative skills are a powerful combination: hippy chic meets business savvy; Anna had no trouble quickly capturing the imagination and attention of the eight participants.
Each day after some theory and discussion we would start drawing. But, where did the time go?
I am the original "Miss Fidget" and even I was able to sit for a few hours and relax into drawing. I felt my brain switch into this new and different mode. The anxious and insistent need to keep "doing stuff" disappeared, to be replaced by a calm and focus I had not experienced before.
Our course was at the Maria Assumpta Centre, just off Kensington High Street. We enjoyed a garden room, large and airy, with windows on three sides - a rare treat in London for just the eight DRSB artists. On our course some had previous drawing experience: one an art degree; another had been a part-time botanical illustrator.
I had expected everyone on the course to be a "numpty novice" like me. It seemed strange at first that we would all be in the same group. How would that work? I wondered.
The Monday morning task, a self portrait, is used to measure progress for the week. Somehow it seemed less threatening – just used to measure progress - as opposed to a drawing in its own right.
I had been practicing for 6-9 months before attending the course so as not to feel paralysed when presented with a blank sheet of paper, and to fight an instinct to start writing and not drawing. So I was pleased, at the first assignment, that I could just pick up a pencil and make a start, without hesitation, I was pleased my "homework" had paid off. But, in hindsight, this "aversion therapy" wasn't really necessary.
The strange thing is that my negative self-chatter disappeared very quickly, even when reviewing drawings at the end of the session. I didn't sense any competitiveness for which picture was best, it just didn't happen like that. Because everyone has a different style the discussions were about either the mechanics of how the subject was tackled or what people felt about the experience rather than ranking the efforts.
As the week progressed, each drawing task, focussed on a new technical aspect whilst building on the knowledge and trials from previous days.
High quality materials are provided at the start of the week and now a few weeks later seem second nature to use. I have drawn very day since the course. Sometimes just for a few minutes other times for a few hours.
I feel more confident going into art shops now, not because I know what I'm looking for, just because it feels like I am part of a new world, and nothing is going to get in the way…I can just ask or experiment to navigate in this new world.
On a train journey last week I became aware I was studying the roof angles from the train – 40 years' travelling the same route - and I had seen many things differently 
I have not yet reviewed the accompanying course book… for once I am behind with my reading. Now, when I get a few minutes, instead of picking up a book I just pick up a pencil and start something new or continue with a drawing left from a previous day.
I love this feeling of freedom and potential the course has given me, and a new way of seeing the world.
I can't recommend this course enough. Anna's relaxed yet organised approach make this course unbeatable.

Charlotte Fielding
London
July 2008.

---
Leave Testimonials to return to Course Feedback here