COURSE DATES
Betty Edwards' five-day Drawing on the Right Side of the Brain® workshop is now available in the UK. The five-day pencil drawing course is taught by Anna Black, under license from Drawing on the Right Side of the Brain Inc.
I am delighted to be offering a residential course option at an inspiring location on the west coast of Scotland (approx 70 minutes from Glasgow International Airport). If you live locally it is possible to attend on a non-residential basis.
If you and a group of family or friends (max 4) would like to have your own exclusive workshop at Rowan House, please get in touch to discuss. 
I don't have any London courses scheduled for the foreseeable future. 
DATES FOR THE 5-DAY WORKSHOP
---

The Studio at Rowan House
Scotland (Residential)
FEBRUARY 2024
Friday 23rd February 2024 (arriving after 4pm) - Thursday 29th February (checkout by 10am)
Classes will be from Saturday 24th - Wednesday 28th February 2024 9.30am - 5.30pm
MARCH 2024
Saturday 23rd March (arriving after 4pm) - Friday 29th March 2024 (checkout by 10am)
Classes will be from Sunday 24th - Thursday 28th March 2024  9.30am - 5.30pm
WHERE?
Rowan House, Carrick Castle, Lochgoilhead, Cairndow, Scotland PA24 8AD
The Studio faces on to the loch so when you are not drawing you can enjoy the stunning views. 
Find out more about Rowan House here 
HOW MUCH? 
Course Fee: £565 includes DRSB drawing portfolio (RSP £115) (plus accommodation fee).
Includes: 
35 Hours of teaching
The Drawing Portfolio (RRP £115).
This is yours to keep and includes all the materials you will need for the course, including drawing tools unique to Drawing on the Right Side of the Brain® , which were designed by Brian Bomeisler. The Drawing Portfolio was designed by Dr Edwards and Brian Bomeisler.

View the contents of the
Drawing on the Right Side of the Brain®  portfolio here


Accommodation

Accommodation is either in the B&B or the self-catering apartment and the price varies accordingly. If you are staying in the B&B breakfast and a light lunch is included. If you are staying in the self-catering apartment, a light lunch is included. The self-catering apartment has a kitchen and living room.
We finish 5-5.30pm on day 5 so you can either leave directly after that or stay another night and leave the following morning. 
If you'd like to attend the course with a friend or partner or come along with a non-drawing companion, double occupancy rates are available.
Further details on accommodation rates available on request.
HOW TO BOOK?

To find out more or to book please get in touch here.
---


TERMS & CONDITIONS
The course fee is due on booking and includes a £100 non refundable deposit.
The accommodation must be paid in full 2 calendar months before the start date. 
Cancellation If cancellation is 2 calendar months before the course start date, a full refund less the deposit will be made. If cancellation is within 2 calendar months of the course start date no refunds will be made. No exceptions.
In the event of a cancellation within the 2-calendar month period, I will offer your place to anyone on the waiting list. If I can fill your place, I will give you a refund less the non-refundable deposit. However, there are no guarantees and if I can't fill your place I'm afraid I'm unable to give you a refund or a transfer to another course. I strongly recommend you get insurance to cover you in the event you need to cancel.
We reserve the right to cancel a course due to insufficient numbers or other circumstances and in these instances participants will receive an option of transferring to a different course date or receiving a full refund. We can take no responsibility for any travel or other costs incurred so please make sure you have appropriate insurance.
COVID-19 Please see terms of conditions on booking form.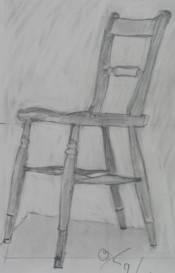 This drawing was done on Day 2. The student was someone without drawing experience before the course.
Return to Drawing Courses to follow links to read details of previous participants' experience of the course and see some course drawings.

---
Leave Pencil Drawing Course to return to Drawing Courses click here