Brian Bomeisler: artist and teacher
Brian Bomeisler received a Bachelor of Fine Arts degree from Pratt Institute/Brooklyn, New York in 1975, and has been a working and showing artist since then, living and working in Soho, New York City.
In 1985 he received a Fellowship from the NEA and has paintings in collections at The Museum of Contemporary Art, La Jolla; The Hyde Collection, New York; corporate and private collections around the world.
He has also been an instructor at the New York Academy of Art for a number of years. Brian's illustrations appear alongside the text in The New Drawing on the Right Side of the Brain.
Drawing and Painting Classes
Brian taught alongside his mother, Betty Edwards, since 1988 and since her retirement in 1998, has been leading the Drawing and Painting Workshops worldwide. His courses include:

5-Day Drawing Course
2-Day Advanced Drawing Course
3-Day Color Course
1-Day Sketching Course
Find out more about Betty Edwards' work developing Drawing on the Right Side of the Brain here

For more information on Brian's courses visit www.drawright.com

Drawing Tools

Brian developed some of the drawing tools, which are part of the Portfolio and unique to the Drawing on the Right Side of the Brain®
The viewfinder
The angle finder
The proportion finder


What Goes on Inside a 5-Day Drawing Class?
The following articles, which appear in American Artist: Drawing, will tell you a bit more about what happens inside a 5-day class. Brian explains what he is trying to do with the students, you can see some student drawings too and read what they have to say about their experience in learning how to draw with the Drawing on the Right Side of the Brain® method.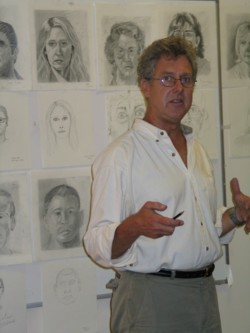 Inside the Atelier by Brian Bomeisler

Brian Bomeisler: Drawing Without Symbols on the Right Side of the Brain by Stephanie Kaplan






If you would like to find out about a Drawing on the Right Side of the Brain workshop in the UK please click here

Alternatively, sign up for our free newsletter Drawing Matters and be the first to hear about dates for new courses, what's new on the website, plus information about drawing-related matters and events.



---
If you would like to return to The Theory click here

Return to home page