Hello



Welcome to Drawing Matters and a new year - a new opportunity to learn a new skill or brush up on existing ones - and what better way to do that than with a 5-day Drawing on the Right Side of the Brain workshop!
Information about the content 5-day Drawing on the Right Side of the Brain course, devised by Dr. Betty Edwards.


UK Courses Details of courses in 2015


Motivating Yourself after a 'Drawing Pause' How to get started with drawing again after a break


We're on Facebook Learn to Draw Right has a page on Facebook


If your computer only allows you to view a text only version of this newsletter you can see the colour version with colour images here

I hope you will find Drawing Matters interesting and I'd love to hear any comments or suggestions from you. Please feel free to forward it to anyone who you think might be interested. There is a link at the bottom of the page where they can subscribe.
You can contact me here

Anna Black
Certified Drawing on the Right Side of the Brain instructor, operating under license from Drawing on the Right Side of the Brain (www.drawright.com)


---
Course Dates 2015
If you've always wanted to learn to draw, Dr. Betty Edwards' Drawing on the Right Side of the Brain 5-day intensive course is a proven technique for teaching drawing - particularly to those people who swear they could never be taught to draw! This course is taught in the UK by Anna Black, certified and licensed by Drawing on the Right Side of the Brain Inc.

Anna teaches in the UK in central London (Little Venice), which are non-residential, and North Wales, near Bangor, (residential).

The course lasts for 5 days (9.30am-5.30pm) and includes 35 hours of teaching and The Drawing Portfolio (RRP over £80).


The cost for the course and all materials is £515 (although each course has an early bird discount opportunity making the course fee £465). There is an additional charge for board and accommodation on the residential courses.


The contents of the Drawing Portfolio were designed by Dr Betty Edwards and Brian Bomeisler. It includes all the materials you will need for the course, including drawing tools unique to Drawing on the Right Side of the Brain. These unique tools were developed by Brian Bomeisler based on those used by the Old Masters. The Portfolio and its contents are yours to take home and keep.



CENTRAL LONDON
Amadeus Centre, 50 Shirland Road, Little Venice W9 2JA (Nearest tube: Maida Vale (Bakerloo line))

WHEN?

Monday 30th March to Friday 3rd April 2015

This course is now full. Please get in touch if you'd like to go on a waiting list.

Monday 4th May to Friday 8th May 2015

Early bird discount has expired

Monday 22nd June to Friday 26th June 2015
Early bird discount expires 30th January 2015
Monday 24th August to Friday 28th August 2015
Early bird discount expires 25th March 2015
HOW MUCH? £515
With respective early bird discounts the course fee is reduced to £465




NORTH WALES
Trigonos, Nantlle, North Wales (nearest train station is Bangor)


WHEN? Saturday 25th July to Thursday 30th July 2015
This course is residential

HOW MUCH? £515 plus accommodation and full board
Early bird discount expires 28th February 2015

The Course Fee does not include accommodation or full board. There is an additional cost for this which varies depending on the room. (£415 for 5 nights full board for single ensuite to £345 for 5 nights full board single with shared facilities). Please contact me to find out availability.





On every course you will be given a Drawing on the Right Side of the Brain Portfolio with unique tools designed by Dr Betty Edwards and Brian Bomeisler. This contains all the materials you will need for the course plus learning materials including a dvd. You can find out more here



UNITED STATES
If you are interested in purchasing the portfolio separately or for courses in the United States with Brian Bomeisler or courses elsewhere in the world, please click here



MAILING LIST
If you would like to be among the first to hear about new course dates in the UK as soon as they are announced please contact me to be added to the mailing list.

here (a new window will open)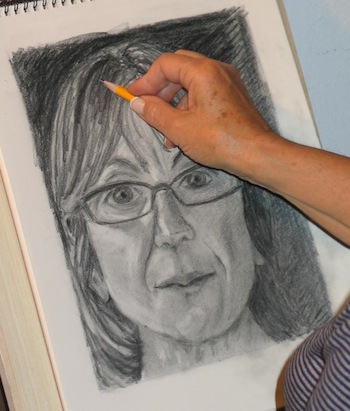 What do people who have done the course already think?


"I'm so pleased I came on the course. I never would have believed how I improved... Really really really delighted! Really impressed with course content and how it develops. Made drawing seem a really straightforward skill to learn."


You can also read some participant feedback and a more indepth account of one participant's experience here


For further information and to contact me for a booking form, click here


Read what the media and other people have thought of Betty Edwards' Drawing on the Right Side of the Brain course here ( a new window will open)


---
How to Motivate Yourself
If we've had a break from drawing for any reason it can seem quite a challenge to get back to into it. It can easily become a 'big' thing in our heads and so we keep putting it off and putting it off and before we know it, days stretch into weeks and weeks stretch into months without drawing. If you want to improve and maintain your drawing skills you must practice regularly. Here are some suggestions about how to get inspired once more:
I find it helpful to look at the work of other artists. These might be Old Masters or contemporary artists - it doesn't really matter. You can look for particular themes such as portraits or landscapes or perhaps search by style or medium. As well as using the internet to search via google, have a look at websites like Tumblr or Pinterest. These can be really great ways to connect with artists' work and can take you along some random paths with great results. Go and explore!
Try something new! Too often we get stuck because we set unrealistic expectations for ourselves. When we try something new we approach it with 'beginner's mind' - we have no expectations of being at a particular standard and even better, as a novice we can make mistakes because we don't know 'the rules'. Letting go of our inhibitions and just having a go as if we are a total beginner is a great way to get excited about drawing again. Experiment with different media - charcoal, oils, collage, pen and ink, printmaking... the list is endless!
Take a class. I find it really helpful to have something timetabled. When I've got a class scheduled I'm taking it seriously and it has to be something pretty major that causes me to miss it. Make your art work a priority and commit to an ongoing group of some kind. You can always do this informally with a buddy - agree to meet at a particular time and day each week and regardless of whether the other person shows up or not, make sure you do!
Look back through previous work. Notice what you like and how you improved. Use this as a starting point. What interests you? What would you like to explore?
Don't be afraid - we can always start again and if we seem a little rusty, with practice we will quickly feel as if we haven't had a break at all!

Visit Learn to Draw Right on Facebook
Visit Learn to Draw Right on Facebook here
---
Drawing on the Right Side of the Brain USA

If you are in the USA and want to find out about Betty Edwards' Drawing on the Right Side of the Brain courses run by Brian Bomeisler in the USA and overseas visit
---
Received this Newsletter from a Friend?
If you've been forwarded this Newsletter from a friend and you'd like to subscribe to Drawing Matters yourself, just
---
www.learn-to-draw-right.com
Anna Black
London, UK