Apologies for the lateness of this September issue of Drawing Matters, not sure where this month has gone but it nearly has! In this month's newsletter you will find:
Details of the 5-day Drawing on the Right Side of the Brain course, devised by Betty Edwards. This includes links for viewing a slideshow of participants' work and reading course feedback.



Artist of the Month: Albrecht Durer - includes information about forthcoming exhibition at the National Gallery, London in October.



What's New brings your attention the latest areas of the website.



The Big Draw 2008 will take place through October with drawing events around the UK for all ages. Find out more and mark some dates in your diary now.


If your computer only allows you to view a text only version of this newsletter you can see the colour version with images here

I hope you will find Drawing Matters interesting and I'd love to hear any comments or suggestions from you. Please feel free to forward it to anyone who you think might be interested. There is a link at the bottom of the page where they can subscribe.
You can contact me here

Anna Black
Certified Drawing on the Right Side of the Brain instructor, operating under license from Drawing on the Right Side of the Brain (www.drawright.com)


---
Course Dates
If you've always wanted to learn to draw, Dr. Betty Edwards' Drawing on the Right Side of the Brain is a proven technique for teaching drawing - particularly to those people who swear they could never be taught to draw!

If you want to learn the five basic skills needed for realistic drawing you can do it in a five-day intensive course devised by Betty Edwards.

Dates for 2009 I am currently finalizing some dates for spring 2009 and hope to announce them next month. As well as a non-residential course in central London there will be a residential course at a wonderful location in North Wales.

If you are interested in courses in the United States with Brian Bomeisler, follow the link at the bottom of the page.





Please contact me to be placed on the mailing list so you hear about 2009 dates as soon as they are announced.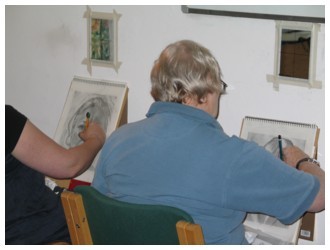 View a slideshow of student drawings and class photos
If you are interested in booking for next year but you are still sceptical that you will really learn the basic skills of drawing in just five days, why don't you view a slideshow showing some drawings done by participants on the course here (a new window will open)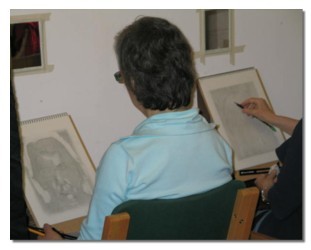 Read participants' feedback on the course




"Thank you for a splendid week! I've waited 13 years to do this course and it was worth the wait"


You can also read some participant feedback and a more indepth account of one participant's experience here (a new window will open)


To find out more about how the course is structured and what you will learn, click here



For further information and a booking form, click here


Read what the media and other people have thought of Betty Edwards' Drawing on the Right Side of the Brain course here ( a new window will open)



---
ARTIST OF THE MONTH
Albrecht Durer (b. 1471 d.1528)
Durer was a German northern Renaissance painter and engraver. There are several engravings which show Durer using a device very similar to the viewfinder used on the Drawing on the Right Side of the Brain course. You can see Durer using this device 'the portrait machine' in this image here

You can view a substantial body of Durer's work at the website below. This website allows you to click on the image and it will then be enlarged - and sometimes you are able to download it. So a good resource if you are looking for images to copy and practise your drawing.

The following pages may be of particular interest: pages 3; 7 (Portrait of a Girl, Durer's Mother), 11 (Feet of a Kneeling Man is one of my favourites - plus studies of various heads and drapery); p.12 (Boy's Hands), p.22 (Portrait of Lucas van Leyden, Head of an Angel), p.23 (Hands).

View Durer's work here.

You can also see Durer's portraits - along with other great masters - in a forthcoming exhibition at London's National Gallery.

Renaissance Faces: Van Eyck To Titian
This landmark exhibition explores the dramatic rise of portraiture in the Renaissance. It features works by the great masters of Northern and Southern Europe, including Raphael, Titian, Botticelli, van Eyck, Holbein, Dürer, Lotto, Pontormo and Bellini.

Comprising over 60 paintings, alongside important sculptures, drawings and medals, 'Renaissance Faces' provides fresh insights into 15th- and 16th-century art and life.

'Renaissance Faces' opens on 15 October 2008 and runs until January 2009.
WHAT'S ON THE WEBSITE?
Drawing Resources Be inspired and informed by visiting this page to view external websites showing work by artists from the Renaissance to the present day



Slideshow View participant drawings and class photos



Course Feedback Read course feedback from recent Betty Edwards' Drawing on the Right Side of the Brain courses taught by certified instructor, Anna Black



Visit these pages through the main navigation bar at Learn to Draw Right here


---
THE BIG DRAW 2008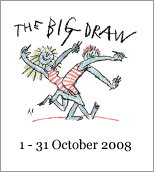 The Big Draw is the Campaign for Drawing's flagship, with some 1300 drawing events across the UK each October.
Check out the Big Draw website by clicking on the Big Draw logo on the left, to find out what events are happening near you. Many of these events are free with materials provided and are suitable for all different ages.

This month-long season celebrates creativity and encourages experiment and enjoyment uniting people of all ages, abilities and cultures. It shows how pencil, pen, chalk or the computer mouse can inspire observation, imagination and invention. Drawing connects us with our environment and helps us to see, think and communicate.

pre-booking is required for some of the masterclasses and other events so don't leave it until the last minute otherwise you'll be disappointed!

Events take place around the UK but here are some details for LONDON EVENTS

There are many different events taking place in London and these can all be found on the Big Draw website.

One of these will be held by the East Wing Collection VIII, at
THE COURTAULD INSTITUTE OF ART who will be celebrating The Big Draw with a number of fun-filled drop-in workshops on Saturday 11 th October 2008 (10am-5pm) All events and materials are free of charge. The workshops are aimed at all ages and include:
Danica Maier will be working to create an exciting large-scale collaborative anamorphic scene
Rebecca Birch will be making a marvellous moving-map of all the sights visitors saw on their journey to The Courtauld
Edward Collet will be exploring figure drawing in movement and rest
Austin Cole will be speaking informally about why he took to using traditional techniques and their relevance today.
Caricaturists will be working to demonstrate their skills and provide you with a fun memento of the day.

More information here
---
Drawing on the Right Side of the Brain USA

To find out about Betty Edwards' Drawing on the Right Side of the Brain courses run by Brian Bomeisler in the USA visit www.drawright.com

---
Received this Newsletter from a Friend?
If you've been forwarded this Newsletter from a friend and you'd like to subscribe to Drawing Matters yourself, just
---
www.learn-to-draw-right.com
Anna Black
London