Welcome to the October issue of Drawing Matters, and particularly to any new subscribers. In this month's newsletter you will find:
News of a residential 5-day workshop Drawing on the Right Side of the Brain, devised by Betty Edwards. This will take place at Trigonos in North Wales in May 2009.



Information about the 5-day Drawing on the Right Side of the Brain course, devised by Betty Edwards. This includes links for viewing a slideshow of participants' work and reading course feedback.



Book of the Month: The Zen of Seeing by Frederick Franck



Drawing Coach Don't Be Afraid of the Dark



Don't Miss This 'exhibition of a lifetime' on portraits of the Renaissance at London's National Gallery until January 2009



The Big Draw 2008 will take place through October with drawing events around the UK for all ages. Find out more and mark some dates in your diary now.


If your computer only allows you to view a text only version of this newsletter you can see the colour version with images here

I hope you will find Drawing Matters interesting and I'd love to hear any comments or suggestions from you. Please feel free to forward it to anyone who you think might be interested. There is a link at the bottom of the page where they can subscribe.
You can contact me here

Anna Black
Certified Drawing on the Right Side of the Brain instructor, operating under license from Drawing on the Right Side of the Brain (www.drawright.com)


---
Course Dates 2009
If you've always wanted to learn to draw, Dr. Betty Edwards' Drawing on the Right Side of the Brain 5-day intensive course is a proven technique for teaching drawing - particularly to those people who swear they could never be taught to draw!




NORTH WALES 2nd-7th MAY 2009 A 5-day residential course at Trigonos.

I'm delighted to be offering this course at Trigonos – an award-winning and inspiring residential centre in the Snowdonia National Park. The house and grounds are nestled in the Nantlle valley, surrounded by the mountains and magnificent views of Snowdon. Trigonos prides itself on its warm, caring hospitality and its freshly prepared food – much of it home-grown.

Trigonos offers a warm welcome, catering for all needs and creating a relaxing and inspiring place to learn. With 18 acres of land including a walled garden, woodlands, meadow land and a lake and stream, there are many places for walking and quiet reflection. With the mountains on your doorstep, there's also the opportunity to soak in the atmosphere and make the most of the location.


To see a selection of previous class photos, drawings and images of Trigonos click here (a new window will open)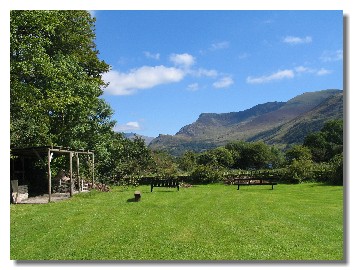 LONDON
I am currently finalizing dates for a non-residential course in spring 2009 in central London.



UNITED STATES
If you are interested in courses in the United States with Brian Bomeisler, follow the link at the bottom of the page.



MAILING LIST
If you would like to hear about new course dates in the UK as soon as they are announced please contact me to be added to the mailing list.

View a slideshow of student drawings and class photos
If you are interested in booking for next year but you are still sceptical that you will really learn the basic skills of drawing in just five days, why don't you view a slideshow showing some drawings done by participants on the course here (a new window will open)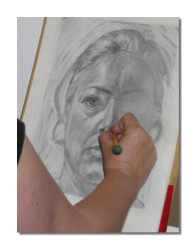 Read participants' feedback on the course




"I can't believe the strides from first pre instruction drawing to finished portrait - incredible as 45 years ago I always came bottom in art class "


You can also read some participant feedback and a more indepth account of one participant's experience here (a new window will open)


To find out more about how the course is structured and what you will learn, click here



For further information and a booking form, click here


Read what the media and other people have thought of Betty Edwards' Drawing on the Right Side of the Brain course here ( a new window will open)



---
BOOK OF THE MONTH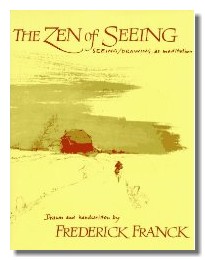 The Zen of Seeing: Seeing/Drawing as Meditation Drawn and handwritten by Frederick Franck

The Zen of Seeing brings together my two main interests - drawing and meditation. Franck shows how drawing can allow us to experience the world with fresh eyes.



"What I have not drawing, I have never really seen"

says Franck.



"Once you start drawing an ordinary thing, a fly, a flower, a face, you realize how extraordinary it is - a sheer miracle."


The Zen of Seeing is not a step by step how to draw book, it is, however a book that will show you the simplicity of picking up a pencil, looking, drawing and seeing...


DRAWING COACH: Don't Be Afraid of the Dark
Many beginning drawing students are afraid of adding darks to their drawing. Perhaps there is a sense of 'no going' back if you lay down the graphite too dark too soon. To a certain extent that is true but a drawing will suffer from a lack of three-dimensionality if it's a flat tone of grey.
Work on the whole drawing continuously - adding lights and darks across the whole drawing at the same time. Every time you lighten or darken an area it will affect other areas so keep the whole drawing moving forward together.
Create a 3-step value scale at the very edge of your drawing showing your 'white', your middle tone and your darkest dark. A value scale is a small strip of 'boxes' with stepped tones from light to dark. Use this as a constant reference point.
There are usually very few 'highlights' in a drawing - use them sparingly.
Compare and contrast - how dark is this area to that? Sometimes just darkening a tiny area of a drawing will transform it
Light and shadow adds mood to your drawing - it sets the tone, adds mystery and interest
Experiment - don't be afraid to try it. It's only a drawing and so what if it doesn't turn out how you expected. There will always be another drawing and another opportunity to put into practice what you learned through experimenting.
DON'T MISS...
RENAISSANCE FACES: VAN EYCK TO TITIAN

This landmark exhibition at London's National Gallery runs until January 2009.

"This is one of the shows of a lifetime. Even at twice the size it could not have been more thrilling or profound."


Laura Cumming The Observer (Read the rest of the review here (a new window will open)

The exhibition explores the dramatic rise of portraiture in the Renaissance. It features works by the great masters of Northern and Southern Europe, including Raphael, Titian, Botticelli, van Eyck, Holbein, Dürer, Lotto, Pontormo and Bellini.

Comprising over 60 paintings, alongside important sculptures, drawings and medals, 'Renaissance Faces' provides fresh insights into 15th- and 16th-century art and life.

Find out more here (a new window will open)


---
THE BIG DRAW 2008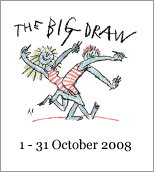 The Big Draw is the Campaign for Drawing's flagship, with some 1300 drawing events across the UK each October.
Check out the Big Draw website by clicking on the Big Draw logo on the left, to find out what events are happening near you. Many of these events are free with materials provided and are suitable for all different ages.

This month-long season celebrates creativity and encourages experiment and enjoyment uniting people of all ages, abilities and cultures. It shows how pencil, pen, chalk or the computer mouse can inspire observation, imagination and invention. Drawing connects us with our environment and helps us to see, think and communicate.

pre-booking is required for some of the masterclasses and other events so don't leave it until the last minute otherwise you'll be disappointed!

Events take place around the UK but here are some details for LONDON EVENTS



One of these is
THE BIG DRAW PARTY at the British Library London on Monday 27th October 2008 All events and materials are free of charge. The workshops are aimed at all ages and include:
---




Drawing on the Right Side of the Brain USA

To find out about Betty Edwards' Drawing on the Right Side of the Brain courses run by Brian Bomeisler in the USA visit www.drawright.com


---




Received this Newsletter from a Friend?

If you've been forwarded this Newsletter from a friend and you'd like to subscribe to Drawing Matters yourself, just

---

www.learn-to-draw-right.com
Anna Black
London