Welcome to the November issue of Drawing Matters. In this month's newsletter you will find:
Details of a residential 5-day workshop Drawing on the Right Side of the Brain, devised by Betty Edwards. This will take place at Trigonos in North Wales in May 2009.



Information about the 5-day Drawing on the Right Side of the Brain course, devised by Betty Edwards. This includes links for viewing a slideshow of participants' work and reading course feedback.



Book of the Month: An Illustrated Life by Danny Gregory (and you can view inside too)



Drawing Coach Drawing the Head



Don't Miss This 'exhibition of a lifetime' on portraits of the Renaissance at London's National Gallery until January 2009



If your computer only allows you to view a text only version of this newsletter you can see the colour version with images here

I hope you will find Drawing Matters interesting and I'd love to hear any comments or suggestions from you. Please feel free to forward it to anyone who you think might be interested. There is a link at the bottom of the page where they can subscribe.
You can contact me here

Anna Black
Certified Drawing on the Right Side of the Brain instructor, operating under license from Drawing on the Right Side of the Brain (www.drawright.com)


---
Course Dates 2009
If you've always wanted to learn to draw, Dr. Betty Edwards' Drawing on the Right Side of the Brain 5-day intensive course is a proven technique for teaching drawing - particularly to those people who swear they could never be taught to draw!




NORTH WALES 2nd-7th MAY 2009 Spaces are filling up on this 5-day residential course at Trigonos and it's easy to see why. What better location to immerse yourself in drawing and soak up the fresh air of Snowdonia at the same time.

Trigonos is an award-winning and inspiring residential centre in the Snowdonia National Park. The house and grounds are nestled in the Nantlle valley, surrounded by the mountains and magnificent views of Snowdon. Trigonos prides itself on its warm, caring hospitality and its freshly prepared food – much of it home-grown.

Trigonos offers a warm welcome, catering for all needs and creating a relaxing and inspiring place to learn. With 18 acres of land including a walled garden, woodlands, meadow land and a lake and stream, there are many places for walking and quiet reflection. With the mountains on your doorstep, there's also the opportunity to soak in the atmosphere and make the most of the location.


To see a selection of previous class photos, drawings and photos of Trigonos click here (a new window will open)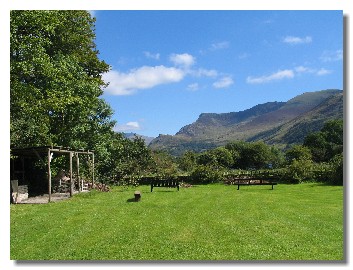 LONDON
For those of you waiting patiently for news of central London courses, thank you and please bear with me. Maria Assumpta is under new management and this has meant some radical changes which means I am currently investigating alternative venues in London but I'm hoping to announce dates in the next few weeks.



UNITED STATES
If you are interested in courses in the United States with Brian Bomeisler, follow the link at the bottom of the page.



MAILING LIST
If you would like to hear about new course dates in the UK as soon as they are announced please contact me to be added to the mailing list.

View a slideshow of student drawings and class photos
If you are interested in booking for next year but you are still sceptical that you will really learn the basic skills of drawing in just five days, why don't you view a slideshow showing some drawings done by participants on the course here (a new window will open)




Read participants' feedback on the course




"You have taken my drawing ahead by many light years - thanks a million"


You can also read some participant feedback and a more indepth account of one participant's experience here (a new window will open)


To find out more about how the course is structured and what you will learn, click here



For further information and a booking form, click here


Read what the media and other people have thought of Betty Edwards' Drawing on the Right Side of the Brain course here ( a new window will open)



---
BOOK OF THE MONTH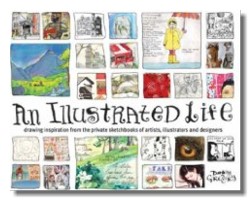 An Illustrated Life: Drawing Inspiration from the Private Sketchbooks of Artists, Illustrators and Designers
Danny Gregory

I am a huge fan of Danny Gregory and have already highly recommended one of his previous books, The Creative License as a great inspiration for keeping an illustrated journal/sketchbook.

His latest book, An Illustrated Life isn't quite out yet. It's published December 16th (USA) and December 8th (UK) but it can be pre-ordered. An Illustrated Life is exactly what it says it is: a look inside private sketchbooks. Danny has gathered together the work of numerous artists and here you can step inside their imagination and see just how versatile a sketchbook can be. This is a book to inspire and delight anyone interested in drawing or recording life. If you want to take a look inside visit Danny's blog and scroll down to a copy of the book and 'Click to Play' film which is a commentary by Danny as he shows inside pages here

---
DRAWING COACH: THE HEAD
Overcoming symbolic drawing is one of the biggest hurdles to learning to draw. The head is one of the strongest symbols we use - draw a circle or oval, stick in 3 marks for eyes/mouth and, in all cultures, it would be recognisable as a face. When we come to do a portrait it is all too easy to draw a smooth oval outline for the head just to get something on paper. The result is an egghead rather than the look person we are trying to capture.

My invitation to you this month is to really look at people's heads. You can do this in a check out queue, sitting on the bus or train, anyway - and you don't even need a pencil.
Look at the overall shape of the head and hair.
Imagine there is an invisible pane of glass between you and the head you are looking at
Imagine you are holding a pencil that you can place flat on this imaginary pane of glass
Move the pencil around - placing it along each angle/plane of the head. What do you notice?
No head is a round outline


You will see that the outline of every head is made of loads of different straight lines, each at a slightly different angle. These angles inform the direction the head is facing and its angle of elevation - looking up or down. These angles also form the shape of the hair and the skull and these are the details that make us identify each person as an individual and will help you capture a likeness.

Taking the time to really look at people when you are not drawing will reap dividends when you sit down with pencil and paper.

Don't draw eggheads - draw people!

---
YOU'VE STILL TIME TO SEE...
RENAISSANCE FACES: VAN EYCK TO TITIAN

This landmark exhibition at London's National Gallery runs until January 2009 so you've still got time to visit it if you are in London

"This is one of the shows of a lifetime. Even at twice the size it could not have been more thrilling or profound."


Laura Cumming The Observer (Read the rest of the review here (a new window will open)

The exhibition explores the dramatic rise of portraiture in the Renaissance. It features works by the great masters of Northern and Southern Europe, including Raphael, Titian, Botticelli, van Eyck, Holbein, Dürer, Lotto, Pontormo and Bellini.

Comprising over 60 paintings, alongside important sculptures, drawings and medals, 'Renaissance Faces' provides fresh insights into 15th- and 16th-century art and life.

Find out more here (a new window will open)


---
Drawing on the Right Side of the Brain USA

To find out about Betty Edwards' Drawing on the Right Side of the Brain courses run by Brian Bomeisler in the USA visit www.drawright.com

---
Received this Newsletter from a Friend?
If you've been forwarded this Newsletter from a friend and you'd like to subscribe to Drawing Matters yourself, just
---
www.learn-to-draw-right.com
Anna Black
London