Hello and apologies for the fact that this is a joint Feb/March Drawing Matters... Things have been busy and as February is a shorter month it seemed sensible to combine the two. In this month's newsletter you will find:
Details of whereabouts in the UK you can do the 5-day workshop Drawing on the Right Side of the Brain, devised by Betty Edwards. There are courses in central London plus a residential course in North Wales.



Information about the 5-day Drawing on the Right Side of the Brain course, devised by Betty Edwards. This includes links for viewing a slideshow of participants' work and reading course feedback.



The Power of Line Consider the power of marks you make in a drawing...


Exhibition News: Don't miss at London's National Gallery Picasso: Challenging the Past



If your computer only allows you to view a text only version of this newsletter you can see the colour version with colour images here

I hope you will find Drawing Matters interesting and I'd love to hear any comments or suggestions from you. Please feel free to forward it to anyone who you think might be interested. There is a link at the bottom of the page where they can subscribe.
You can contact me here

Anna Black
Certified Drawing on the Right Side of the Brain instructor, operating under license from Drawing on the Right Side of the Brain (www.drawright.com)


---
Course Dates 2009
If you've always wanted to learn to draw, Dr. Betty Edwards' Drawing on the Right Side of the Brain 5-day intensive course is a proven technique for teaching drawing - particularly to those people who swear they could never be taught to draw!

The London course in April is now full, however, I will be announcing dates for the next London course in August next month.



CENTRAL LONDON 6th-10th April 2009 FULLY BOOKED
This non-residential 5-day course will take place at The Amadeus Centre, 50 Shirland Road, Little Venice, London W9 2AJ.



NORTH WALES 2nd-7th May 2009 There is one space left for this 5-day residential course at Trigonos so if it's got your name on it get in touch.
There is no better location to immerse yourself in drawing and soak up the fresh air of Snowdonia at the same time.

Trigonos is an award-winning and inspiring residential centre in the Snowdonia National Park. The house and grounds are nestled in the Nantlle valley, surrounded by the mountains and magnificent views of Snowdon. Trigonos prides itself on its warm, caring hospitality and its freshly prepared food – much of it home-grown.

Trigonos offers a warm welcome, catering for all needs and creating a relaxing and inspiring place to learn. With 18 acres of land including a walled garden, woodlands, meadow land and a lake and stream, there are many places for walking and quiet reflection. With the mountains on your doorstep, there's also the opportunity to soak in the atmosphere and make the most of the location.

To see a selection of previous class photos, drawings and also photos of Trigonos click here (a new window will open)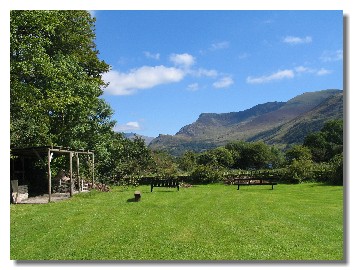 CENTRAL LONDON August 2009
Dates shortly to be announced




UNITED STATES
If you are interested in courses in the United States with Brian Bomeisler, follow the link at the bottom of the page.



MAILING LIST
If you would like to hear about new course dates in the UK as soon as they are announced please contact me to be added to the mailing list.

View a slideshow of student drawings and class photos
If you are interested in booking for next year but you are still sceptical that you will really learn the basic skills of drawing in just five days, why don't you view a slideshow showing some drawings done by participants on the course here (a new window will open)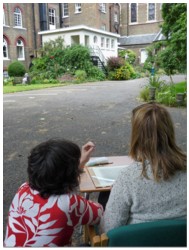 Read participants' feedback on the course




"I can't believe the strides from the first pre-drawing to the finished portrait - incredible as 45 years ago I always came bottom in art class"


You can also read some participant feedback and a more indepth account of one participant's experience here (a new window will open)


To find out more about how the course is structured and what you will learn, click here



For further information and a booking form, click here


Read what the media and other people have thought of Betty Edwards' Drawing on the Right Side of the Brain course here ( a new window will open)



---
THE POWER OF LINE
When you are drawing it's very easy to get so caught up in trying to render what you see in terms of angle and proportion that you forget about the power of line. If you look at drawings done by the Old Masters and other artists, the line of the pencil is in constant movement and change – thick, thin, light, dark, solid, broken, repetitive…
If you think of line as the language of a drawing, you want that language to speak volumes – to convey mood and evoke emotion as well as describe the subject.
Try This:
Practice the marks you make on paper
Vary the pressure on the pencil – what do you notice?
Experiment with how you hold your pencil – what do you notice if you hold it close down to the tip? How about if you hold it higher up towards the end? How does the position of the fingers affect the mark made?
Experiment with drawing the same object in a variety of different pencil styles. Notice how a particular style of mark may convey a particular feeling tone to the drawing.

Each of us has our own unique style of making a mark with pencil but that doesn't mean you can't explore and extend the range of marks you can make. When you increase your vocabulary of marks it will empower you to make conscious deliberate decisions when you are drawing to use a particular type of pencil mark to convey particular information.
---
DON'T MISS...
PICASSO: CHALLENGING THE PAST

25th February to 7th June at London's National Gallery.

We don't usually think of Picasso in terms of the Old Masters as his work appears so radically different. Yet Picasso received a traditional artist's education - studying the works of the Old Masters and learning how to draw by copying their works, as they had learned before him.

"The exhibition is organised thematically, showing how Picasso repeatedly returned to the great subjects of the European painting tradition, analysing them as his personal style developed in myriad directions. Sections include self portraits, the Spanish tradition of male portraiture, the female nude, still life, and the seated female figure."

You need to book in advance to see this exhibition and you can find out more here (a new window will open)


---
Drawing on the Right Side of the Brain USA

To find out about Betty Edwards' Drawing on the Right Side of the Brain courses run by Brian Bomeisler in the USA visit www.drawright.com

---
Received this Newsletter from a Friend?
If you've been forwarded this Newsletter from a friend and you'd like to subscribe to Drawing Matters yourself, just
---
www.learn-to-draw-right.com
Anna Black
London