Welcome to Drawing Matters, This month's newsletter will cover July and August so the next one will be in September when I'll be announcing details of 2012 courses. However I usually send an email out first to those on my list so if you'd like to be on this please contact me. The August course is full but if you want to go on a waiting list in case someone drops out please contact me below. In this month's newsletter you will find:
Information about the content 5-day Drawing on the Right Side of the Brain course, devised by Dr. Betty Edwards. This includes links for viewing a slideshow of participants' work and reading course feedback.


UK Course Dates for 2011 Details of courses for this year


Making Time for Drawing Tips on creating everyday drawing moments.


We're on Facebook Learn to Draw Right now has a page on Facebook


Drawing Matters Facebook Group has now been created so why not join it and keep in touch with fellow artists around the world...



If your computer only allows you to view a text only version of this newsletter you can see the colour version with colour images here

I hope you will find Drawing Matters interesting and I'd love to hear any comments or suggestions from you. Please feel free to forward it to anyone who you think might be interested. There is a link at the bottom of the page where they can subscribe.
You can contact me here

Anna Black
Certified Drawing on the Right Side of the Brain instructor, operating under license from Drawing on the Right Side of the Brain (www.drawright.com)


---
Course Dates 2011
If you've always wanted to learn to draw, Dr. Betty Edwards' Drawing on the Right Side of the Brain 5-day intensive course is a proven technique for teaching drawing - particularly to those people who swear they could never be taught to draw! This course is taught in the UK by Anna Black, certified and licensed by Drawing on the Right Side of the Brain Inc.

All places are now taken but please contact me if you'd like to be added to a waiting list.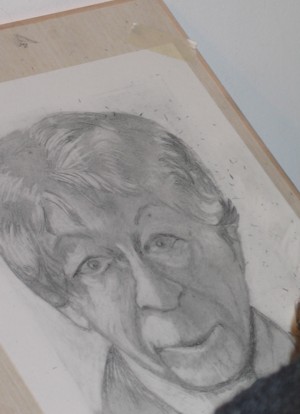 LONDON: 15th - 19th August 2011 This course is full

WHERE? Amadeus Centre, Shirland Road, Little Venice, London W9 HOW MUCH? £475 plus accommodation and full board



EARLY BIRD DISCOUNT £50 off
Special Course Fee price of £425 if you book and pay in full before 1st April 2011


Course fee includes:
35 Hours of teaching
The Drawing Portfolio (RRP Over £70)*see note below.


This course is now full. Please contact me if you'd like to go on a waiting list in case a place becomes available

The contents of the Drawing Portfolio were designed by Dr Betty Edwards and Brian Bomeisler. It includes all the materials you will need for the course, including drawing tools unique to Drawing on the Right Side of the Brain. These unique tools were developed by Brian Bomeisler based on those used by the Old Masters. The Portfolio and its contents are yours to take home and keep.

UNITED STATES
If you are interested in purchasing the portfolio separately or for courses in the United States with Brian Bomeisler, follow the link at the bottom of the page.

MAILING LIST
If you would like to be among the first to hear about new course dates in the UK as soon as they are announced please contact me to be added to the mailing list.

View a slideshow of student drawings and class photos
If you are interested in booking for next year but you are still sceptical that you will really learn the basic skills of drawing in just five days, why don't you view a slideshow showing some drawings done by participants on the course here (a new window will open)


Read participants' feedback on the course devised by Dr Edwards and taught by Anna Black




"I rate this course 10/10 as it has met all my expectations and would recommend it to anyone who wants to learn to draw. The course was well-paced/structured and organised.


You can also read some participant feedback and a more indepth account of one participant's experience here (a new window will open)


To find out more about how the course is structured and what you will learn, click here



For further information and a booking form, click here


Read what the media and other people have thought of Betty Edwards' Drawing on the Right Side of the Brain course here ( a new window will open)



---




MAKING TIME FOR DRAWING

There are many times I put off doing something because I think it's too big a job – whether it is cleaning the refrigerator (procrastinator's estimate: a whole afternoon, actual time less than 30 minutes), planting a window box herb garden (procrastinator's estimate: a whole day, actual time a couple of hours including trip to garden centre), completing a portrait (procrastinator's estimate: several hours, actual time less than 60 minutes).


One of the commonest reasons I hear for not drawing is that 'I don't have time'. My challenge to you this month is to find the wasted moments in your daily life when you could find time to draw. Here are some tips that I hope might help.


Keep a pared down drawing kit to hand. Consider carefully what the essentials are and stick to them.
I separate my materials into different labelled boxes – pastels in one, drawing pencils in another, charcoal in another etc. This does mean I sometimes end up buying duplicates of things like kneaded erasers but I think it's worth it as it saves me having to scrabble around trying to find stuff.
Think about what is the best media to use for the time you have. A pencil drawing done in hard H pencils needing multiple layers of cross hatching is going to take several hours. For making the most of pockets of time I'd use an ink pen or biro, charcoal, an 8B or softer pencil or oil pastels (not chalk as the clearing up of the chalk dust takes too long!). This week I did a portrait on two different evenings– Both took under an hour and so filled a spot when my normal tendency would be to collapse in front of some mindless tv!
Consider keeping a list of things to draw in your sketchbook or a folder of reference photographs or drawings to work from. We all get stuck for inspiration so make it easy for yourself.
Since I've had a touch screen device I've been drawing/painting much much more. I use the Brushes app on my iphone and ipad but am also starting to use ArtRage. There are all kinds of apps for colour and black and white, for apple and android, so experiment. Being able to paint with my phone means I'll often end up doing something in a 45-minute lunch break.
Drawing doesn't have to be about producing a finished piece of work. Practising cross-hatching and other marks is useful and can be quite relaxing. Blind contour drawing is also another good exercise to do that can take 3 minutes or 30!



I find the more I draw and paint, the more I want to do it but sometimes I have to give myself a shove to start the ball rolling, then I just do it, regardless of whether I am in the mood or not. I have also found that I can't wait for big chunks of time to suddenly open up. If I want to draw I have to make time. So over the summer see how many drawing moments you can create.





---




Visit Learn to Draw Right on Facebook

Visit Learn to Draw Right on Facebook here
You can keep in touch by just becoming a Fan by clicking on the relevant button.

Also, there is now a DRAWING MATTERS FACEBOOK GROUP page you can join. This is interactive and like any group is only as good as its contributors so this is the place you can ask questions, answer other people's questions, share tips etc etc. here



---

Drawing on the Right Side of the Brain USA

To find out about Betty Edwards' Drawing on the Right Side of the Brain courses run by Brian Bomeisler in the USA visit www.drawright.com


---




Received this Newsletter from a Friend?

If you've been forwarded this Newsletter from a friend and you'd like to subscribe to Drawing Matters yourself, just

---

www.learn-to-draw-right.com
Anna Black
London, UK