Hello



Many people would love to be able to draw but perhaps have never been taught properly, or been put off by throwaway comments suggesting that they could never learn. The truth is anyone can learn to draw if they are taught properly. You can learn to draw in as little as 5 days. Whether you are a complete beginner or perhaps you would just like to develop your skills and confidence, particularly at drawing from life, then this 5-day Drawing on the Right Side of the Brain workshop is for you.

2016 courses are now filling up - I am down to my last places for March in London and if you'd like to take advantage of the early bird discount and save £50 for June 2016 you need to book before 30th January.
Information about the content 5-day Drawing on the Right Side of the Brain course, devised by Dr. Betty Edwards.


UK Courses Details of 2016 workshops


Working from the General to the Specific


We're on Facebook Learn to Draw Right has a page on Facebook


If your computer only allows you to view a text only version of this newsletter you can see the colour version with colour images here

I hope you will find Drawing Matters interesting and I'd love to hear any comments or suggestions from you. Please feel free to forward it to anyone who you think might be interested. There is a link at the bottom of the page where they can subscribe.
You can contact me here

Anna Black
Certified Drawing on the Right Side of the Brain instructor, operating under license from Drawing on the Right Side of the Brain (www.drawright.com)


---
Course Dates 2016
If you've always wanted to learn to draw, Dr. Betty Edwards' Drawing on the Right Side of the Brain 5-day intensive course is a proven technique for teaching drawing - particularly to those people who swear they could never be taught to draw! This course is taught in the UK by Anna Black, certified and licensed by Drawing on the Right Side of the Brain Inc.

Anna teaches in the UK in central London (Little Venice), which are non-residential, and North Wales, near Bangor, (residential).

The course lasts for 5 days (9.30am-5.30pm) and includes 35 hours of teaching and The Drawing Portfolio (RRP over £80).


The cost for the course and all materials is £515 (Each course has an early bird discount of £50). There is an additional charge for board and accommodation on the residential courses.


The contents of the Drawing Portfolio were designed by Dr Betty Edwards and Brian Bomeisler. It includes all the materials you will need for the course, including drawing tools unique to Drawing on the Right Side of the Brain. These unique tools were developed by Brian Bomeisler based on those used by the Old Masters. The Portfolio and its contents are yours to take home and keep.



CENTRAL LONDON
Amadeus Centre, 50 Shirland Road, Little Venice W9 2JA (Nearest tube: Maida Vale (Bakerloo line))

WHEN?

Monday 28th March to Friday 1st April 2016

Last couple of places available!


Monday 2nd May to Friday 6th May 2016



Monday 20th June to Friday 24th June 2016

Early bird discount of £50 expires 30th January 2016


Monday 29th August to Friday 2nd September 2016

Early bird discount of £50 expires 19th March 2016

HOW MUCH? £515 including all drawing and learning materials in the Portfolio (£50 off with Early Bird discount, see specific dates)





NORTH WALES
Trigonos, Nantlle, North Wales (nearest train station is Bangor)


WHEN? Saturday 23rd July to Thursday 28th July 2016
This course is residential

HOW MUCH? £515 plus accommodation and full board
Early bird discount of £50 expires 28th February 2016

The Course Fee does not include accommodation or full board. There is an additional cost for this which varies depending on the room. (£415 for 5 nights full board for single ensuite to £345 for 5 nights full board single with shared facilities).



On every course you will be given a Drawing on the Right Side of the Brain Portfolio with unique tools designed by Dr Betty Edwards and Brian Bomeisler. This contains all the materials you will need for the course plus learning materials including a dvd. You can find out more here



UNITED STATES
If you are interested in purchasing the portfolio separately or for courses in the United States with Brian Bomeisler or courses elsewhere in the world, please click here



MAILING LIST
If you would like to be among the first to hear about new course dates in the UK as soon as they are announced please contact me to be added to the mailing list.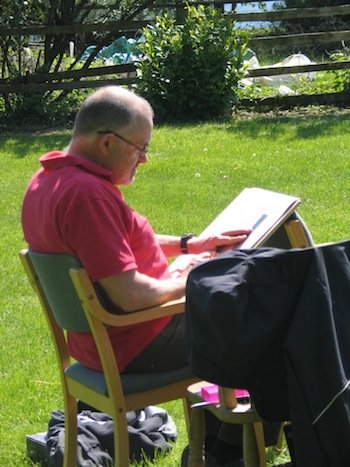 What do people who have done the course already think?


"Really well paced. Very clear direction and instruction. Exceeded expectations... I feel more confident and have a set of tools I can use to develop my skills"


You can also read some participant feedback and a more indepth account of one participant's experience here

Read what the media and other people have thought of Betty Edwards' Drawing on the Right Side of the Brain course here ( a new window will open)


---
WORKING FROM THE GENERAL TO THE SPECIFIC
When we look at something with a view to drawing our eyes see too much and we try to put in all the details we can see. Whether drawing or painting, remember always to work from the general to the specific. This means you can work out the proportions of your drawing in the early stages without committing to a specific area – you will find it easier to move things around and make radical adjustments if you haven't lavished hours of attention on one eye before discovering you need to move it 2mm to the left!
Squint! Yes it might not look elegant and you might find it tricky to do at first but if you squint it will be easier for you to 'find' and 'see' big shapes of light / dark. Squinting does get easier with practice.
If you are working from a colour photograph I'd suggest you turn it into a black and white image to help distinguish the value ranges. You can do this on a photocopier or on a desktop photo editing programme. Once you have done that, look at the image and decide (a) which is the darkest area? (b) which is the middle tone? (c) which is the light tone? Allocate every part of the image to one of those 3 categories (don't worry about subtleties here). Then copy the image just using those 3 values and working in a monchrome of black (or alternative) and white. This is a really useful exercise.
Finally, don't feel obliged to put in everything you see. Looking at a work of art is an interactive process and the viewer 'participates' by being involved in working out the image visually. If you have too much detail there is also a danger of the image looking fragmented.
You will also find it much easier if you work with strong directional light that casts shadows on the subject. If the light is flat – whether working from life or a photograph – it will be much more of a challenge to make it look three-dimensional.
Remember your eraser is as an important a drawing tool as the pencil and it can be easier to lay a ground (either graphite or charcoal) and erase out lights before adding in the darks.
Only add details when you have blocked in all your big shapes of light and dark and remember, you don't have to put in every detail - leave something for the viewer to do!
Visit Learn to Draw Right on Facebook
Visit Learn to Draw Right on Facebook here
---
Drawing on the Right Side of the Brain USA

If you are in the USA and want to find out about Betty Edwards' Drawing on the Right Side of the Brain courses run by Brian Bomeisler in the USA and overseas visit
---
Received this Newsletter from a Friend?
If you've been forwarded this Newsletter from a friend and you'd like to subscribe to Drawing Matters yourself, just
---
www.learn-to-draw-right.com
Anna Black
London, UK