Welcome to this month's newsletter. All the courses for next year are now full but if you want to go on a waiting list in case someone drops out please contact me below. Those on my mailing list are always the first to hear about new course dates so if you are disappointed please contact me below and I will make sure you are on that list for next time. In this month's newsletter you will find:
Information about the content 5-day Drawing on the Right Side of the Brain course, devised by Dr. Betty Edwards. This includes links for viewing a slideshow of participants' work and reading course feedback.


UK Course Dates for 2011 Details of courses for next year


Drawing Coach: Some tips to help get you drawing.


Last chance to See A round-up of exhibitions currently on in London that will be closing soon


We're on Facebook Learn to Draw Right now has a page on Facebook


Drawing Matters Facebook Group has now been created so why not join it and keep in touch with fellow artists around the world...



If your computer only allows you to view a text only version of this newsletter you can see the colour version with colour images here

I hope you will find Drawing Matters interesting and I'd love to hear any comments or suggestions from you. Please feel free to forward it to anyone who you think might be interested. There is a link at the bottom of the page where they can subscribe.
You can contact me here

Anna Black
Certified Drawing on the Right Side of the Brain instructor, operating under license from Drawing on the Right Side of the Brain (www.drawright.com)


---
Course Dates 2011
If you've always wanted to learn to draw, Dr. Betty Edwards' Drawing on the Right Side of the Brain 5-day intensive course is a proven technique for teaching drawing - particularly to those people who swear they could never be taught to draw! This course is taught in the UK by Anna Black, certified and licensed by Drawing on the Right Side of the Brain Inc.

All places are now taken but please contact me if you'd like to be added to a waiting list.






NORTH WALES: 31st April - 5th May 2011 This course is residential

WHERE? Trigonos, Nantlle, North Wales (nearest train station is Bangor) HOW MUCH? £475 plus accommodation and full board



EARLY BIRD DISCOUNT £50 off
Special Course Fee price of £425 if you book and pay in full before 18th December 2010


Course fee includes:
35 Hours of teaching
The Drawing Portfolio (RRP Over £70).
The contents of the Drawing Portfolio were designed by Dr Betty Edwards and Brian Bomeisler. It includes all the materials you will need for the course, including drawing tools unique to Drawing on the Right Side of the Brain. These unique tools were developed by Brian Bomeisler based on those used by the Old Masters. The Portfolio and its contents are yours to take home and keep.
The Course Fee does not include accommodation or full board. There is an additional cost for this which varies depending on the room.
Find out more and how to book here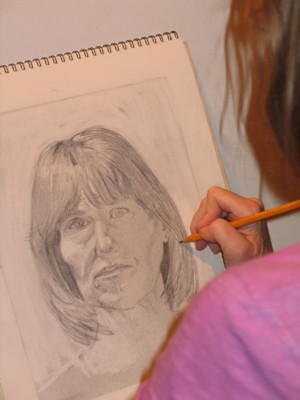 LONDON: 30th May - 3rd June 2011 This course is full

WHERE? Amadeus Centre, Shirland Road, Little Venice, London W9 HOW MUCH? £475 plus accommodation and full board



EARLY BIRD DISCOUNT £50 off
Special Course Fee price of £425 if you book and pay in full before 31st January 2011


Course fee includes:
35 Hours of teaching
The Drawing Portfolio (RRP Over £70)*see note below.


This course is now full. Please contact me if you'd like to go on a waiting list in case a place becomes available






LONDON: 15th - 19th August 2011 This course is full

WHERE? Amadeus Centre, Shirland Road, Little Venice, London W9 HOW MUCH? £475 plus accommodation and full board



EARLY BIRD DISCOUNT £50 off
Special Course Fee price of £425 if you book and pay in full before 1st April 2011


Course fee includes:

35 Hours of teaching
The Drawing Portfolio (RRP Over £70)*see note below.


This course is now full. Please contact me if you'd like to go on a waiting list in case a place becomes available

The contents of the Drawing Portfolio were designed by Dr Betty Edwards and Brian Bomeisler. It includes all the materials you will need for the course, including drawing tools unique to Drawing on the Right Side of the Brain. These unique tools were developed by Brian Bomeisler based on those used by the Old Masters. The Portfolio and its contents are yours to take home and keep.

UNITED STATES
If you are interested in purchasing the portfolio separately or for courses in the United States with Brian Bomeisler, follow the link at the bottom of the page.

MAILING LIST
If you would like to be among the first to hear about new course dates in the UK as soon as they are announced please contact me to be added to the mailing list.

View a slideshow of student drawings and class photos
If you are interested in booking for next year but you are still sceptical that you will really learn the basic skills of drawing in just five days, why don't you view a slideshow showing some drawings done by participants on the course here (a new window will open)


Read participants' feedback on the course devised by Dr Edwards and taught by Anna Black




"I have thoroughly enjoyed the course and although I still find it difficult to draw a circl I can now say 'I can draw'. I loved the intensity which really focused the mind... I cannot think of a single thing to change. Accommodation good and food brillant. Setting to die for."


You can also read some participant feedback and a more indepth account of one participant's experience here (a new window will open)


To find out more about how the course is structured and what you will learn, click here



For further information and a booking form, click here


Read what the media and other people have thought of Betty Edwards' Drawing on the Right Side of the Brain course here ( a new window will open)



---




DRAWING COACH

Sometimes finding the time or the inspiration to draw seems the biggest hurdle to practising. However if you don't practise drawing regularly you will not improve - but if you do, you will be surprised at how quickly you improve. Here are some tips to get you going:
Don't wait to be in the mood to draw (you rarely will be!) - just start and the act of drawing will quickly absorb you...
Make a list of things to draw and each time just pull off the first thing on the list. Here's a start: draw a shoe; a bunch of keys; your hand, your foot, the view out of the window, draw yourself, use props like hats and scarves if you are bored with drawing the same view of yourself...
Collect some reference images - postcards or images of old master drawings, photographs of landscapes or people - and keep these to hand so you can go through them and find something to draw.
Meeting up with like-minded people can be a great support. If you can't do this locally, there are all kinds of drawing groups on the internet, as well as a wealth of material in terms of tuition on sites like YouTube. Of course, quality is variable so do your own self regulation.
There are some excellent warm-up exercises you can do anytime which will stand you in good stead such as blind contour drawing (keep your eye on the object and as your eye moves very slowly move the pencil accordingly. The only rule is don't look at the drawing and don't lift the pencil off the paper)and practising cross hatching.
Sign, date and keep your work as a record of your progress. Seeing how you are improving will spur you on.
Don't give up halfway through a drawing – push through the self-judgment barrier of 'this drawing is rubbish'. Just keep going regardless and see what happens. It's a drawing not a work of art…
Stand back from your drawing as often as you can, walk away and come back and see it with fresh eyes. When you think you've 'finished', leave it propped up, go away and keep coming back to it, you'll soon notice anything that looks 'off'.
Turn a drawing upside down – areas that aren't quite working will jump out at you. If you have a digital camera or a camera on your phone taking a quick snap can serve the same purpose.
For every critical comment you make on your finished drawing, match it with one positive thing you are pleased with. It could just be the fact that you didn't give up or the way you've caught the light in one spot. Look at your own work as you would look at someone else's and be as kind to yourself as you would be to them.





---




LAST CHANCE TO SEE

Take advantage of the holidays if you can to see the following in London, which will soon be closing:

GAUGUIN at the Tate Modern until 16th January 2011
DIOR ILLUSTRATED: RENE GRUAU AND THE LINE OF BEAUTY at Somerset House until 9th January 2011.
PIONEERING PAINTERS - THE GLASGOW BOYS 1880-1900 at the Royal Academy until 23rd January 2011. The Royal Academy of Arts presents the first major exhibition in London for over 40 years to celebrate the achievement of the Glasgow Boys, the loosely knit group of young painters who created a stir at home and abroad in the final decades of the nineteenth century.
THOMAS LAWRENCE: REGENCY POWER & BRILLIANCE at the National Portrait Gallery until 23rd January 2011. Thomas Lawrence was the greatest British portrait painter of his generation and one of the most celebrated artists in Europe in the early decades of the nineteenth century. This exhibition, the first in the UK for over thirty years, presents fifty-four works drawn from international public and private collections, some never before seen in public.




---




Visit Learn to Draw Right on Facebook

Visit Learn to Draw Right on Facebook here
You can keep in touch by just becoming a Fan by clicking on the relevant button.

Also, there is now a DRAWING MATTERS FACEBOOK GROUP page you can join. This is interactive and like any group is only as good as its contributors so this is the place you can ask questions, answer other people's questions, share tips etc etc. here



---

Drawing on the Right Side of the Brain USA

To find out about Betty Edwards' Drawing on the Right Side of the Brain courses run by Brian Bomeisler in the USA visit www.drawright.com


---




Received this Newsletter from a Friend?

If you've been forwarded this Newsletter from a friend and you'd like to subscribe to Drawing Matters yourself, just

---

www.learn-to-draw-right.com
Anna Black
London, UK