Hello and welcome to the April issue of Drawing Matters In this month's newsletter you will find:
Details of whereabouts in the UK you can do the 5-day workshop Drawing on the Right Side of the Brain, devised by Betty Edwards. There are courses in central London (new date for August 09) plus a residential course in North Wales.


Information about the 5-day Drawing on the Right Side of the Brain course, devised by Betty Edwards. This includes links for viewing a slideshow of participants' work and reading course feedback.


The Power of Light Use light deliberately to create drama and mood in your drawing...


Artist of the Month: Fred Hatt American artist Fred Hatt uses coloured pencil on coloured paper to create monumental studies of the human head and body.


Exhibition News: Don't miss at London's National Gallery Picasso: Challenging the Past



If your computer only allows you to view a text only version of this newsletter you can see the colour version with colour images here

I hope you will find Drawing Matters interesting and I'd love to hear any comments or suggestions from you. Please feel free to forward it to anyone who you think might be interested. There is a link at the bottom of the page where they can subscribe.
You can contact me here

Anna Black
Certified Drawing on the Right Side of the Brain instructor, operating under license from Drawing on the Right Side of the Brain (www.drawright.com)


---
Course Dates 2009
If you've always wanted to learn to draw, Dr. Betty Edwards' Drawing on the Right Side of the Brain 5-day intensive course is a proven technique for teaching drawing - particularly to those people who swear they could never be taught to draw! Course dates for the remainder of this year are:



NORTH WALES 2nd-7th May 2009 FULLY BOOKED





CENTRAL LONDON 2nd-6th August 2009
This non-residential 5-day course will take place at St.Mary Abbotts Centre, Vicarage Gate, London, London W8 4HN.(near High Street Kensington tube or Notting Hill Gate tube)



UNITED STATES
If you are interested in courses in the United States with Brian Bomeisler, follow the link at the bottom of the page.



MAILING LIST
If you would like to hear about new course dates in the UK as soon as they are announced please contact me to be added to the mailing list.

View a slideshow of student drawings and class photos
If you are interested in booking for next year but you are still sceptical that you will really learn the basic skills of drawing in just five days, why don't you view a slideshow showing some drawings done by participants on the course here (a new window will open)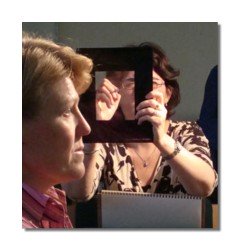 Read participants' feedback on the course




"I love this feeling of freedom and potential the course has given me, and a new way of seeing the world."


You can also read some participant feedback and a more indepth account of one participant's experience here (a new window will open)


To find out more about how the course is structured and what you will learn, click here



For further information and a booking form, click here


Read what the media and other people have thought of Betty Edwards' Drawing on the Right Side of the Brain course here ( a new window will open)



---
THE POWER OF LIGHT
Light and shadow is what R-Mode (the right brain) loves! Light and shadow creates mood and drama in your drawing and this is something you can control and which also aids you in creating a sense of depth in your drawing so think about what it is you want when you are setting up your composition at the start.
TRY THIS:
Use an angle poise lamp to direct light where you wish.
Experiment – whether you are doing a self portrait or drawing someone else – move the light around and see how it changes your subject and what mood it creates.
Creating high contrast shadows will help you create a sense of 3-dimension to your drawing – you can draw the negative shapes of the lights and darks and the face will emerge for free.
Use a large sheet of white paper or a sheet to create a screen and 'bounce' light back on the subject.
---
ARTIST OF THE MONTH: FRED HATT
American artist Fred Hatt uses coloured pencils to create energetic and vigorous drawings. It is always useful to look at other artists' work and see how they tackle particular subjects. What media do they use - what type of paper. How do those decisions affect the drawing? What do they contribute? Fred's drawings have a strong sense of structure and the use of the coloured pencils almost describes what is going on below the surface of the skin... arteries, bones, blood vessels. Explore the website to see his life drawings but in particular look at his 'monumental heads'.

See Fred's 'monumental heads' here
DON'T MISS...
PICASSO: CHALLENGING THE PAST

25th February to 7th June at London's National Gallery.

We don't usually think of Picasso in terms of the Old Masters as his work appears so radically different. Yet Picasso received a traditional artist's education - studying the works of the Old Masters and learning how to draw by copying their works, as they had learned before him.

"The exhibition is organised thematically, showing how Picasso repeatedly returned to the great subjects of the European painting tradition, analysing them as his personal style developed in myriad directions. Sections include self portraits, the Spanish tradition of male portraiture, the female nude, still life, and the seated female figure."

You need to book in advance to see this exhibition and you can find out more here (a new window will open)


---
Drawing on the Right Side of the Brain USA

To find out about Betty Edwards' Drawing on the Right Side of the Brain courses run by Brian Bomeisler in the USA visit www.drawright.com

---
Received this Newsletter from a Friend?
If you've been forwarded this Newsletter from a friend and you'd like to subscribe to Drawing Matters yourself, just
---
www.learn-to-draw-right.com
Anna Black
London