The Drawing Portfolio (RRP £50).
All the materials you will need for the course, including drawing tools unique to Drawing on the Right Side of the Brain.

See full list of contents here

If you are still sceptical that you will really learn the basic skills of drawing in just five days, here are some drawings by three different participants. None of them had any significant previous drawing experience or teaching.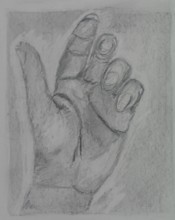 The first "proper" drawing students do is drawing their own hand. This challenging foreshortened view was completed on the 2nd day of instruction.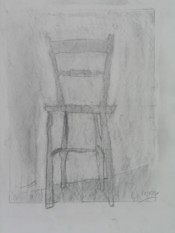 This drawing of a chair was done on the 2nd day of instruction.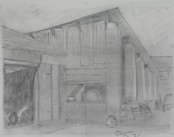 This sighting drawing was done on the 3rd day of instruction.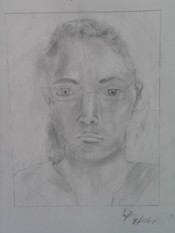 On Day 5, participants do a self-portrait, bringing together all the skills they have learned
To find out more about how the course is structured and what you will learn, click here


For further information and a booking form, click here


GIFT VOUCHERS AVAILABLE
In case you haven't noticed, Christmas is coming. Contributing to the cost of a drawing course is a great way for family and friends to support your drawing - and help you learn a skill for life.
Gift vouchers are available in amounts of £25, £50 and £100 and can be redeemed in full or as part payment on Drawing on the Right Side of the Brain courses offered by Anna Black only.
To purchase a gift voucher contact me here
---
BOOK OF THE MONTH
This is where I tell about one of my favourite books - so if you like the sound of it, Christmas is coming!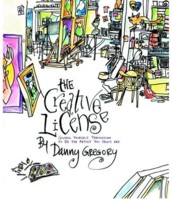 The Creative License by Danny Gregory is a fun book – oozing colour and creativity, the hand-written type giving it a personal, journal-like feel.

Danny Gregory acknowledges his debt to Betty Edwards and other artists and teachers, and although in some ways, what he is saying is nothing new, he presents it in such a lively and inspiring way that

I defy anyone not to pick up a pen and start drawing after you've read this book!

This book is not about creating meticulous pencil drawings – it's about capturing the colour and life of everyday life. It's about seizing the moment – each moment and drawing drawing drawing… drawing in cafes, at train stations, in your lunch hour, in the doctor's surgery… Just drawing and capturing your life and others. Great fun, inspiring and highly recommended.


---
TIP OF THE MONTH
A ceramics teacher split his class in two at the beginning of term.
To Group 1 he said: "You are going to be graded on quantity. At the end of term I'm going to bring in some scales and simply weigh the amount of pieces you have made.The person with the heaviest quantity will get an A".
To Group 2 he said: "You are going to be graded on quality. By the end of term you only need to have produced one pot but to get an A it must be perfect."
Come the end of term, a curious fact emerged...the works of highest quality were produced by the group being graded for quantity. It seems that while the 'quantity' group were busy churning out loads of work, they were learning from their mistakes. Whereas the 'quality' group sat theorizing about perfection and ended up with little to show for their efforts.
(Art & Fear by David Bayles and Ted Orland)

So why not see if you can let go of the need for every drawing to be perfect...you'll learn far more by drawing a little every day and let go too of the thought that 'good work' is synonymous with perfect work. Try it and see what happens


---
VIRTUAL VISIT
It can be hard finding the time to get to an art gallery or museum and too often, when we do, we don't get to see what we want. Drawings in particular, are often not on permanent view. However, many collections allow online which is a chance to see close up how artists before you have handled different genres and different media.

This month's featured exhibition
Be inspired and pay a virtual visit to one of London's finest art collections, the Royal Collection of HRH Queen Elizabeth II

The Royal Collection e-gallery allows you to search for works by over 820 artists. For example, view 47 portraits by Hans Holbein the Younger from the 16th century, many of them members from the Tudor court. These beautiful portraits provide a fascinating glimpse into the personalities that we are so familiar with from the history books. See Hans Holbein's drawings here

A current online exhibition shows Ten Drawings by Leonardo da Vinci. Zoom in and magnify and see Leonardo's drawings closer than you'll every get a chance to in real life here

---