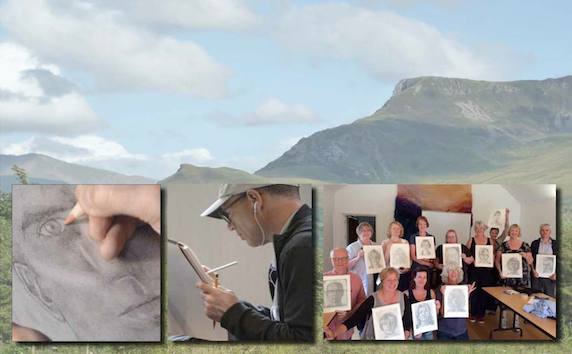 Would you love to be able to draw?
Would you like to able to see as an artist sees?
Would you like to learn a new skill and have it for life?

It sounds amazing doesn't it and it is - and you can. Whether you are a complete beginner or want to develop existing skills further the 5-day Drawing on the Right Side of the Brain® workshop teaches so much more than learning to draw (though we do that too) - as this participant commented after completing the recent course.

"Learning to draw was a childhood dream for me, but I never thought it's possible.... until Anna taught me it is! I really enjoyed the course and it opened up totally new perspectives for me. The five days flew by quickly and all participant achieved an immense progress in their drawing skills. When I showed my before and after self-portrait to my friends and colleagues everyone was blown away and I'm very proud of my progress. Anna is a fantastic - patient and very kind - teacher, the course was well structured and her organisation skills are spot on. I'd recommend this course to anyone who's interested in drawing and arts or just simply wants to have fun and see the world in a new light " Palma B.
DISCOVER FOR YOURSELF AND BOOK NOW FOR MAY 21-25TH 5-DAY WORKSHOP IN CENTRAL LONDON>

BOOK NOW FOR 21-25th MAY IN CENTRAL LONDON PLUS OTHER DATES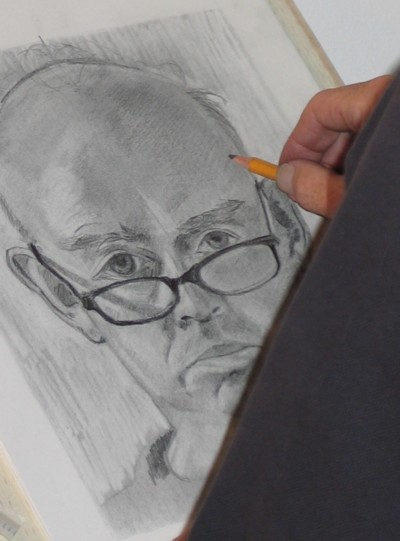 This is a self-portrait drawing in progress done by a student on the final day.


---
Whether you are a complete beginner or perhaps you would just like to develop your skills and confidence, particularly at drawing from life, then this 5-day Drawing on the Right Side of the Brain® workshop is for you.

Dr. Betty Edwards' Drawing on the Right Side of the Brain® 5-day intensive course is a proven technique for teaching drawing - particularly to those people who swear they could never be taught to draw!

Courses are held in central London and north Wales and taught by Anna Black a Certified Drawing on the Right Side of the Brain® instructor, operating under license from Drawing on the Right Side of the Brain® Inc (www.drawright.com)
Now full. Contact me to go on a waiting list.
You can find out more about courses in the USA and the rest of the world at the end of the newsletter.


Please feel free to forward this newsletter to anyone who you think might be interested. There is a link at the bottom of the page where they can subscribe.
You can contact Anna Black here


Find out dates for UK courses as well as early bird discounts here



---




COURSE FEEDBACK


Read what the media and other people have thought of Betty Edwards' Drawing on the Right Side of the Brain® course here ( a new window will open)



---




Visit Learn to Draw Right on Social Media

Visit Learn to Draw Right on Facebook here and we are on Instagram here



---




UK Mailing list

If you would like to be among the first to hear about new course dates in the UK as soon as they are announced please contact me to be added to the mailing list.

If your computer only allows you to view a text only version of this newsletter you can see the colour version with colour images here

---

Drawing on the Right Side of the Brain® USA

---




Received this Newsletter from a Friend?

If you've been forwarded this Newsletter from a friend and you'd like to subscribe to Drawing Matters yourself, just

---

www.learn-to-draw-right.com
Anna Black
London, UK