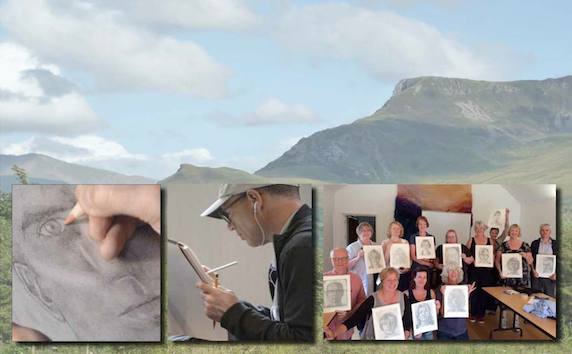 Why not join us May 21-26th in London?
Book by April 1st to get the early bird discount for September 1st-21st 2018 in London
The March 5-day Drawing on the Right Side of the Brain® workshops course in London is now full but there are still places for May and later in the year. Do book early to take advantage of early bird discounts and to avoid disappointment.

"Overall an excellent course. I feel I learned a lot and would like to thank Anna for her enthusiasm and patience! A good balance of taught information and practical exercises."

Whether you are a complete beginner or perhaps you would just like to develop your skills and confidence, particularly at drawing from life, then this 5-day Drawing on the Right Side of the Brain® workshop is for you.

Courses are held in central London and north Wales (you can find out more about courses in the USA and the rest of the world at the end of the newsletter). In this newsletter you will find:
Information about the content 5-day Drawing on the Right Side of the Brain® course, devised by Dr. Betty Edwards.


UK Courses Details of 2018 workshops


Drawing without Symbols Read an article by Stephanie Kaplan explaining what happens in a 5-day workshop taught by Brian Bomeisler




If your computer only allows you to view a text only version of this newsletter you can see the colour version with colour images here

Please feel free to forward this newsletter to anyone who you think might be interested. There is a link at the bottom of the page where they can subscribe.
You can contact me here

Anna Black
Certified Drawing on the Right Side of the Brain® instructor, operating under license from Drawing on the Right Side of the Brain® Inc (www.drawright.com)


---
UK COURSE DATES 2018
Dr. Betty Edwards' Drawing on the Right Side of the Brain® 5-day intensive course is a proven technique for teaching drawing - particularly to those people who swear they could never be taught to draw! This course is taught in the UK by Anna Black, certified and licensed by Drawing on the Right Side of the Brain® Inc.

Anna teaches in the UK in central London (Little Venice), non-residential, and North Wales, near Bangor, (residential).

The course lasts for 5 days (9.30am-5.30pm) and includes 35 hours of teaching and The Drawing Portfolio (RRP over £80).


The cost for the course and all materials is £525. There is an additional charge for board and accommodation on the residential courses.


The contents of the Drawing Portfolio were designed by Dr Betty Edwards and Brian Bomeisler. It includes all the materials you will need for the course, including drawing tools unique to Drawing on the Right Side of the Brain®. These unique tools were developed by Brian Bomeisler based on those used by the Old Masters. The Portfolio and its contents are yours to take home and keep.



Find out dates for UK courses as well as early bird discounts here


---
COURSE FEEDBACK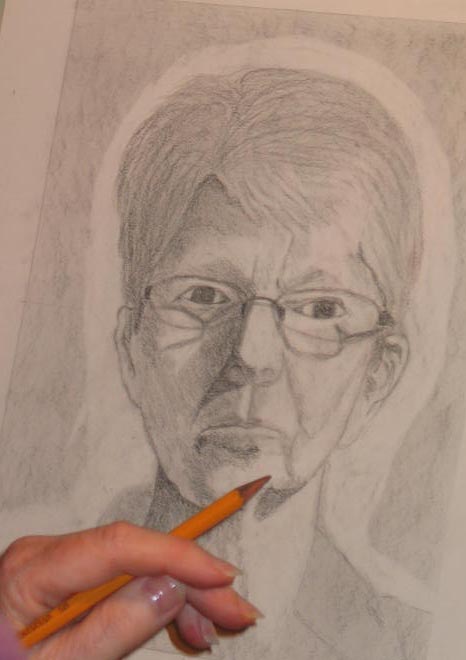 Read what the media and other people have thought of Betty Edwards' Drawing on the Right Side of the Brain® course here ( a new window will open)


---
'Drawing without Symbols' by S.Kaplan
It's always helpful to get another person's viewpoint.This article by Stephanie Kaplan was published in American Artist magazine.

Stephanie Kaplan follows a class of students on the 5-day intensive drawing seminar, taught by Brian Bomeisler, Betty Edwards' son as they learn to avoid using symbols in their drawing. Includes student drawings and a description of the class and what students learned.

"I walked in on Monday morning feeling hopeless about my complete lack of drawing ability; I walked out on Friday afternoon feeling exhilarated and happy about my newfound skills. Brian gave me a set of tools and techniques—both knowledge and physical tools—that enabled me to overcome my insecurity about putting pencil to paper."

Maria Mosca (attended the workshop to improve her drawing skills for graduate work in landscape design)

"...simplifies complicated processes by breaking them down into easy steps. For me, each day's class was illuminating; I likened it to Plato's allegory of the cave: once you lose your preconceived notions of art, you see with clarity." Michael Zamagias, student
You can read the article here

---
Visit Learn to Draw Right on Social Media
Visit Learn to Draw Right on Facebook here and we are on Instagram here

---
UK Mailing list
If you would like to be among the first to hear about new course dates in the UK as soon as they are announced please contact me to be added to the mailing list.

---
Drawing on the Right Side of the Brain® USA

If you are in the USA and want to find out about Betty Edwards' Drawing on the Right Side of the Brain® courses run by Brian Bomeisler in the USA and overseas visit
---
Received this Newsletter from a Friend?
If you've been forwarded this Newsletter from a friend and you'd like to subscribe to Drawing Matters yourself, just
---
www.learn-to-draw-right.com
Anna Black
London, UK