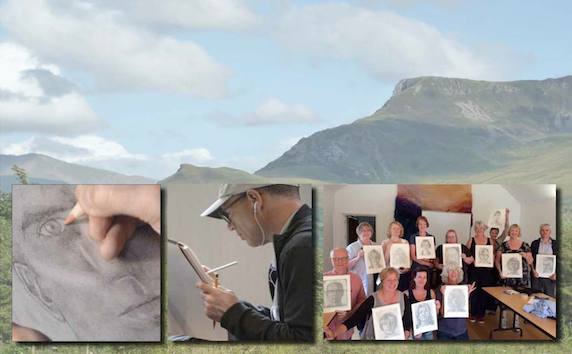 Curious about what happens inside a 5-day Drawing in teh Right Side of the Brain® workshop? Here is a peek inside the last couple of days of a recent workshop held in London.
Whether you are a complete beginner or want to develop existing skills further the 5-day Drawing on the Right Side of the Brain® workshop teaches so much more than learning to draw (though we do that too).



Interested? Join us in central London on September 17-21st or November 5th-9th 2018


"I'd recommend this course to anyone who's interested in drawing and arts or just simply wants to have fun and see the world in a new light " Palma B.
Find out more about central London courses here

---
The Importance of Sticking with It
Every drawing goes through what I like to call an ugly duckling stage – we might have some marks on the paper but maybe they are not quite in the right position and it doesn't look how we expect it to. At this stage it is common that people get frustrated and give up. However, if you plough on chances are that your drawing will develop in a way that may surprise you. Even if it's not the drawing you imagined I am certain you will have learned something at the end of it and very often it has qualities that you might not have anticipated.
More importantly perhaps you would have broken through a barrier and will be starting to cultivate a willingness to just keep going. It is so important not to give up but instead work through difficulties. This is an important skill not just for drawing but for life.
Remember, it's not that you can't do it but rather you haven't yet worked out how to do it.



Here are some tips to help keep a drawing going:
Don't give up early on in the drawing. Keep going regardless; setting aside expectations of the final outcome.
Drawing is about adjustment. Don't expect to put a line down and for it to be right. Drawing is an exploration – the more we look the more we see. The more we see the more accurate are our marks. Expect to make adjustments to your drawing all the time.
Keep working on all areas of your drawing - it's easy to get sucked into one particular area and lavish a huge amount of attention on it. It may look great but you will then be loathe to make changes if you discover that perhaps it's not quite in the right place.
Don't be afraid to make quite radical changes late in the drawing. You can move a feature more easily than you think and it is always worth doing! To make a radical adjustment don't erase out the 'wrong' bit. Decide where you want the new position to be and then, assuming that key areas are accurately observed, copy what you have already drawn in the new position. As you draw you can incorporate bits of the old drawing in the new – only erase out any unnecessary bits once the transfer is complete. If you erase it all at the start you have no reference to follow and you are literally, starting again.
---
Whether you are a complete beginner or perhaps you would just like to develop your skills and confidence, particularly at drawing from life, then this 5-day Drawing on the Right Side of the Brain® workshop is for you.

Dr. Betty Edwards' Drawing on the Right Side of the Brain® 5-day intensive course is a proven technique for teaching drawing - particularly to those people who swear they could never be taught to draw!

Courses are held in central London and north Wales and taught by Anna Black a Certified Drawing on the Right Side of the Brain® instructor, operating under license from Drawing on the Right Side of the Brain® Inc (www.drawright.com)
You can find out more about courses in the USA and the rest of the world at the end of the newsletter.


Please feel free to forward this newsletter to anyone who you think might be interested. There is a link at the bottom of the page where they can subscribe.
You can contact Anna Black here



---
COURSE FEEDBACK

Read what the media and other people have thought of Betty Edwards' Drawing on the Right Side of the Brain® course here ( a new window will open)


---
Visit Learn to Draw Right on Social Media
Visit Learn to Draw Right on Facebook here and we are on Instagram here


---
Your Privacy
We all hate spam and I will never sell your details on to any third party.

If you'd rather not hear from me there is an unsubscribe link at the bottom of this email.

If your computer only allows you to view a text only version of this newsletter you can see the colour version with colour images here
---
Drawing on the Right Side of the Brain® USA

If you are in the USA and want to find out about Betty Edwards' Drawing on the Right Side of the Brain® courses run by Brian Bomeisler in the USA and overseas visit
---
Received this Newsletter from a Friend?
If you've been forwarded this Newsletter from a friend and you'd like to subscribe to Drawing Matters yourself, just
---
www.learn-to-draw-right.com
Anna Black
London, UK