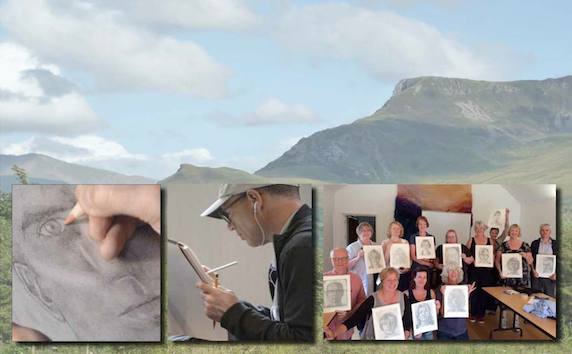 Hello,


** STOP PRESS ** ** STOP PRESS ** ** STOP PRESS ** ** STOP PRESS **
Due to a last minute cancellation there are 2 places available for the March 16-20th 5-day workshop in London. There is a late booking discount of £50 so the course fee will be £480 including the portfolio of materials. Please contact me if you are interested.

REGISTRATION OPEN 2-day Follow-on Workshop 2-3 May 2020 in London. Details below



NORTH WALES 5-day workshop July 18-23rd 2020
This course is now full.



LONDON courses May 18-22nd 2020
After May, the next London course will be October.



SCOTLAND 5-day workshop September 14th - 18th 2020 in Lochgoilhead which is about  70 minutes from Glasgow international airport. Loch Goil is part of Loch Lomond and The Trossachs National Park and is a fantastic area for walking, golf, fishing and boating.



In each 5-day workshop you will get:

5 days of drawing
35 hours of teaching
includes portfolio of drawing materials and unique Drawing on the Right Side of the Brain® tools to support your drawing (RSP £75)
Supportive and encouraging learning environment
---
2020 Workshop Dates
Non-residential courses in London and the residential in north Wales
Book early and save £50 see individual courses for details.



CENTRAL LONDON

March 16-20th 2020
Due to cancellation two places are now available at late booking discount £480 (£50 off)

May 18-22nd 2020
This course is filling up fast

October 26-30th 2020
(early bird expires 30th April 2020)



NORTH WALES

July 18-23rd 2020 (early bird expires 28th February 2020)

This course is residential and there is an additional charge for full board accommodation. It is possible to attend on a non-residential basis.

This course is now full.

SCOTLAND
September 14-18th 2020 (early bird expires 14th April 2020)

This course is non-residential but I can give you accommodation suggestions.

Find out more about prices and locations here


If you would like further information and to book please reply to this email.


The north Wales course takes place a lovely venue, Trigonos, which is on the edge of Snowdonia. Enjoy amazing food in stunning surroundings (and learn to draw!)


"I loved it, great group of people, easy-going, non-competitive and fun!


---
*REGISTRATION OPEN* Follow-on Course for Alumni
This workshop has been put together by Betty Edwards, Brian Bomeisler and myself and will be an opportunity to recap and consolidate skills learned in the 5-day workshop. They will be presented with fresh exercises and subjects to allow you to develop your drawing skills as well as confidence in subject matter.



You will practice and develop confidence in all the 5 perceptual skills of drawing (edges, spaces, sighting angles and proportions, light and shade and the gestalt). There will be a variety of exercises and subjects which will include still life and drawing from a seated clothed model (unlike the 5-day workshop, participants will not be modelling).



If you haven't been drawing and things are feeling a bit rusty this would be a great way to get back into it. This 2-day workshop is open to anyone who has completed the 5-day workshop.



WHEN?
Saturday 2nd May and Sunday 3rd May 2020
9.30am to 5pm



WHERE?
Warwick Community Hall, 300 Harrow Road, London W2 5HG 



HOW MUCH?
£195 payable on booking



HOW TO BOOK
Please email me for Further Information and a booking form - or if you have any questions. 



WHAT YOU WILL NEED
On booking you will be given a list of materials to bring. These are essentially what you were given in your portfolios originally but you can substitute if you have used things up! 



I am hoping that I will be able to run this workshop periodically through the year at different locations, so if this date doesn't work for you hopefully a future one will.
---
GOT A QUESTION?
You can contact Anna Black here

Please feel free to forward this to anyone who you think might be interested. There is a link at the bottom of the page where they can subscribe.



---
SOCIAL MEDIA
Visit Learn to Draw Right on Facebook here and we are on Instagram here


---
YOUR PRIVACY
We all hate spam and I will never sell your details on to any third party.

If you'd rather not hear from me there is an unsubscribe link at the bottom of this email.

If your computer only allows you to view a text only version of this newsletter you can see the colour version with colour images here
---
Drawing on the Right Side of the Brain® USA

If you are in the USA and want to find out about Betty Edwards' Drawing on the Right Side of the Brain® courses run by Brian Bomeisler in the USA and overseas visit
---
Received this Newsletter from a Friend?
If you've been forwarded this Newsletter from a friend and you'd like to subscribe to Drawing Matters yourself, just
---
www.learn-to-draw-right.com
Anna Black
London, UK