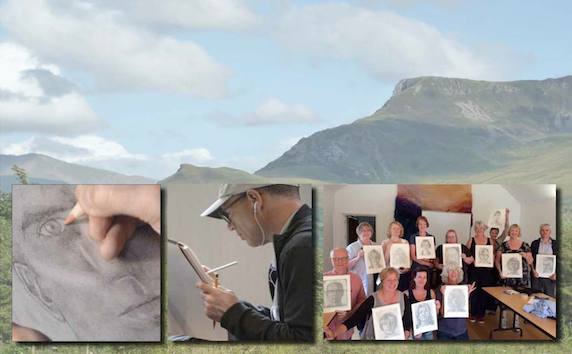 Hello,

Happy Christmas! If you've ever wanted to learn to draw 2023 is your chance! Why not give yourself a special gift - the gift of time to learn a new skill - and immerse yourself in this intensive drawing course and learn the perceptual skills of drawing - and much more. Discover what happens each day below.



I'm down to my last places for the London course in February. This may be the last opportunity to do a London course until 2024.



Scotland in March is now full. Contact me if you'd like to go on the waiting list. The next course in Scotland will be in September 10-16th and there is one place left for that one. There will then be one in October 15th-21st.



A couple of people have mentioned that my emails have gone into their spam folder so if you email me but don't hear back please check your junk folder. If you are having problems you can always use anna.black@btinternet.com.



The London course will be held in Maida Vale, W9 with excellent public transport links. The course in Scotland is residential and gives you the opportunity to relax and recharge in beautiful surroundings on the shores of Loch Goil (just over an hour from Glasgow Airport). The course is held in my studio and so the group is small and you get to have the company of little Mac Black - my yorkipoo as a bonus! You will stay in Rowan House, the five star rated B&B run by my husband and I.


LONDON
Monday 13th February - Friday 17th February 2023
A non-residential course at the Amadeus Centre, Maida Vale, W9
last places available


SCOTLAND
This residential course will be held in Carrick Castle, Lochgoilhead (about  70 minutes from Glasgow international airport).

In each 5-day workshop you will get:

5 days of drawing
35 hours of teaching
includes portfolio of drawing materials and unique Drawing on the Right Side of the Brain® tools to support your drawing (RSP £115)
Supportive and encouraging learning environment
DATES FOR SCOTLAND
MARCH 2023 Sunday 19th March (check-in after 4pm) until Saturday 25th March 2023 (check out by 10am). The workshop is Monday 20th - Friday 24th March 9.30am to 5.30pm. This course is full. Contact me to go on the waiting list.


SEPTEMBER 2023 Sunday 10th September (check-in after 4pm) until Saturday 16th September 2023 (check out by 10am). The workshop is Monday 11th - Friday 15th Sept 9.30am to 5.30pm. Last place left


OCTOBER 2023 Sunday 16th Oct (check-in after 4pm) until Saturday 21st October 2023 (check out by 10am). The workshop is Monday 17th - Friday 20th Oct 9.30am to 5.30pm. Four places available
Find out more about course fees

"I learned that I CAN draw! Realistically, and from life! The physical evidence resides on the pages of the drawing pads in the portfolio (provided as part of the course). I honestly believed with a rock-solid certainty that it was not possible, and I was wrong. What a joy!"
Frank Edwards


5 Days to Learn to See - and Draw!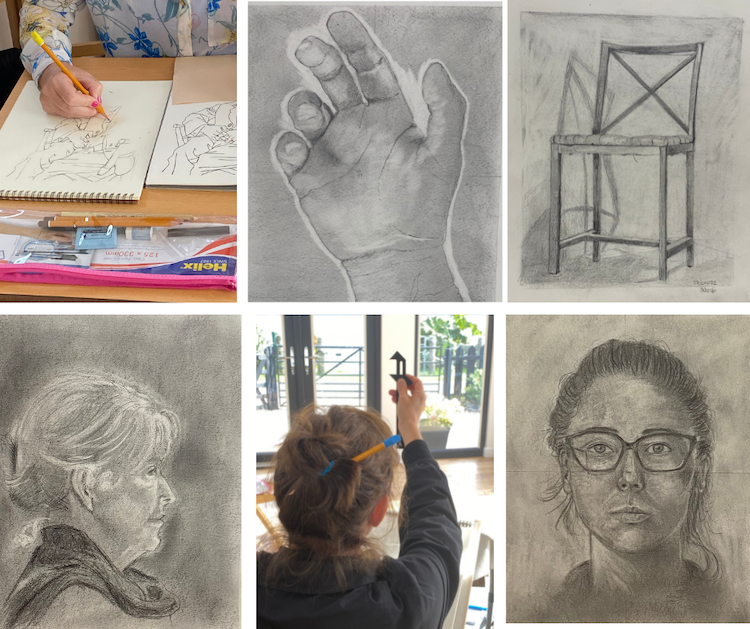 Day 1 EDGES An introduction to Drawing on the Right Side of the Brain and the importance of strengthening 'R-mode' ('right brain') so you can choose which mode of mind you can use depending on the task in hand. You will also learn about edges and how knowledge can get in the way of drawing. You will start using the unique Drawing on the Right Side of the Brain tools you will receive in your portfolio. You will also do your pre-instruction drawing.

Day 2 NEGATIVE SPACE The modified contour drawing of a foreshortened hand is all about edges and negative space. In the afternoon we draw a chair focusing on negative space and start learning how to draw things in proportion with the correct angles - sighting. We choose a chair as there is nowhere to hide and misperceptions in sighting will show up clearly.

Day 3 SIGHTING Often said to be the most difficult skill to learn, learning to sight angles and proportions correctly is key to depicting a 3-dimensional object/scene in two dimensions.

DAY 4 PROFILE PORTRAIT You will learn key proportions for drawing someone from life in the profile view. The profile portrait is a chance to practice all the skills you have been learning.

DAY 5 BRINGING IT ALL TOGETHER After learning about the theory of light and shadow (although you will be using light and shadow all through the week), the main drawing is the self-portrait. Students get to see the progress they have made compared to their pre-instruction drawings.

Whether you are interested in drawing, painting, printmaking, design, photography... learning to see as an artist sees is an essential first step. Now the journey really begins! Find out more about prices and locations here


If you would like further information and to book please reply to this email.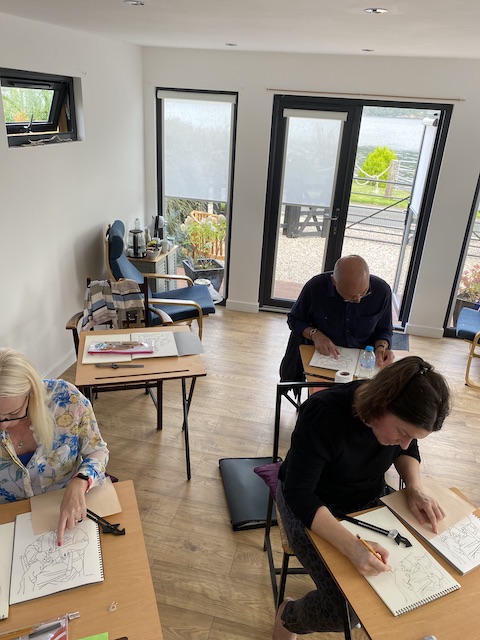 The Studio at Rowan House.
"Rowan House provided a perfect venue and relaxing environment in which to learn to draw. The studio was well ventilated, clean, comfortable and bright. It was well lit and furnished appropriately, with individual desks and comfortable chairs (and a variety of cushions available, if required). The location, with its fantastic views of the loch and surrounding mountains, only enhanced what could be described as an ideal learning environment."
Loretta Kane

Find out more about course dates & fees here


---
GOT A QUESTION?
You can contact Anna Black here

Please feel free to forward this to anyone who you think might be interested. There is a link at the bottom of the page where they can subscribe.



---
SOCIAL MEDIA
Visit Learn to Draw Right on Facebook here and we are on Instagram here


---
YOUR PRIVACY
We all hate spam and I will never sell your details on to any third party.

If you'd rather not hear from me there is an unsubscribe link at the bottom of this email.

If your computer only allows you to view a text only version of this newsletter you can see the colour version with colour images here
---
Drawing on the Right Side of the Brain® USA

If you are in the USA and want to find out about Betty Edwards' Drawing on the Right Side of the Brain® courses run by Brian Bomeisler in the USA and overseas visit www.drawright.com

---
Received this Newsletter from a Friend?
If you've been forwarded this Newsletter from a friend and you'd like to subscribe to Drawing Matters yourself, just
---
www.learn-to-draw-right.com
Anna Black
London, UK