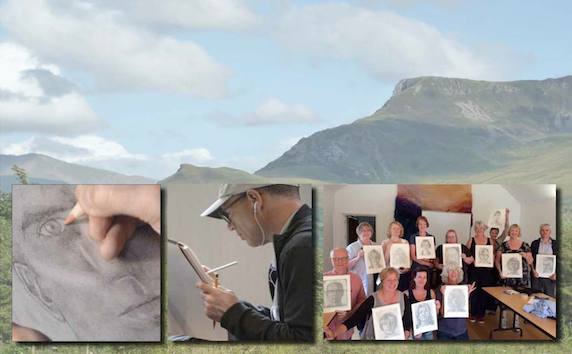 What is holding you back from learning to draw?
Did you know you could learn to draw in just 5 days using Dr Betty Edwards' tried and tested method. If you join us on Monday 4th November in central London by Friday 8th November you will be able to draw!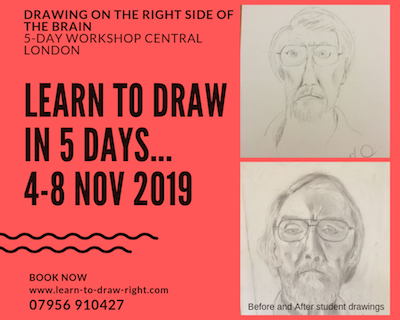 Reply to this email to book your place now. Dates for 2020 will be coming soon.
---

"Thanks for a really fantastic course. Thanks for your great teaching, patience and encouragement and showing me and everyone else what we are capable of creating. It was sometimes stressful and challenging but overall a really enjoyable and rewarding experience. I now look at things with different eyes." Mike Pringle

---
Do you get stuck chasing perfection?
One of my favourite stories in Art & Fear by David Bayles and Ted Orland is that of the college professor who divided his ceramics class into two groups. Group A were told they would be graded on the number of pots they produced at the end of the term. The more they produced the higher the grade. They were told not to worry about how good the pots were in terms of quality. Group B were told they only had to produce one pot and that would be graded therefore, they had to try and make it as perfect as possible.


At the end of the term when they reviewed the work of the two groups, the group producing the highest quality work was Group A – the ones who were churning them out without worrying about perfection.


We can get very stuck on aiming for perfection – this moves into a judging, critical frame of mind which is counterproductive in terms of developing the skill of drawing.
So whether you are someone who is just starting out or have been drawing a while remember these 3 things:


1. The more you draw the better you will get (I can't stress this one enough!)
2. Let go of wanting a particular outcome – it's the process of drawing that is important rather than the drawing itself and by letting go of outcome you will relax and therefore see and draw better.
3. Most people focus too much on all the things they don't like about their drawing. I'd encourage you to reflect on a finished drawing and notice what you might do differently next time but for every negative point you raise match it with one positive to get a balanced view of your work.

Remember you can practice looking even when you don't have a pencil in your hand. See what is actually there rather than what you think is there. Try it and see.
---
GOT A QUESTION?
You can contact Anna Black here

Please feel free to forward this to anyone who you think might be interested. There is a link at the bottom of the page where they can subscribe.



---
SOCIAL MEDIA
Visit Learn to Draw Right on Facebook here and we are on Instagram here


---
YOUR PRIVACY
We all hate spam and I will never sell your details on to any third party.

If you'd rather not hear from me there is an unsubscribe link at the bottom of this email.

If your computer only allows you to view a text only version of this newsletter you can see the colour version with colour images here
---
Drawing on the Right Side of the Brain® USA

If you are in the USA and want to find out about Betty Edwards' Drawing on the Right Side of the Brain® courses run by Brian Bomeisler in the USA and overseas visit
---
Received this Newsletter from a Friend?
If you've been forwarded this Newsletter from a friend and you'd like to subscribe to Drawing Matters yourself, just
---
www.learn-to-draw-right.com
Anna Black
London, UK